11novAll Day12Development & Climate Days 2017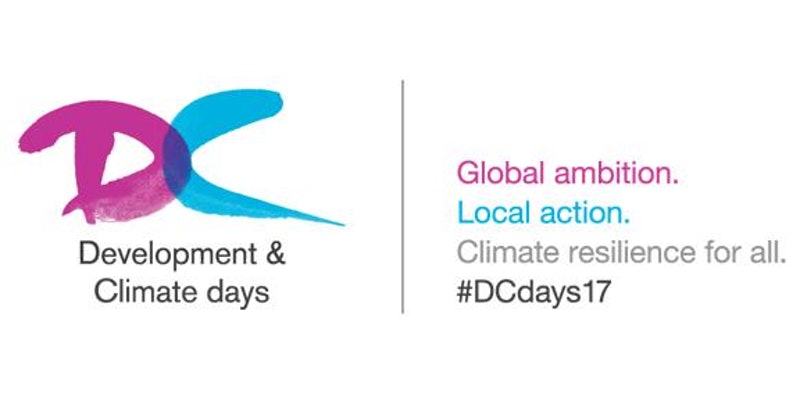 Event Details

WEDO is excited to be a contributing partner for Development and Climate Days 2017 (D&C Days) on 11-12 November during the climate negotiations in Bonn. D&C Days brings together policymakers, practitioners and researchers in an informal, dynamic and interactive set of sessions. The theme is "Global ambition. Local Action. Climate resilience for all".

WEDO is co-organizing Session 2a, "How can gender responsive climate action lead to resilient communities?" on Saturday from 11:30 – 13:00. And there are many other interesting sessions on topics including data, technology, finance, community resilience, accountability, scaling local initiatives, displacement and LDC's. Take a look at the draft program to see which sessions interest you – and check back as it will likely be updated.

The idea of D&C Days is to convene diverse actors to ask big questions while addressing four key themes, and ultimately to influence the 'ambition mechanism' processes under the United Nations Framework Convention on Climate Change (UNFCCC) – particularly the facilitative dialogue and global stocktake – and toinform climate action on all levels.

The themes:
Resilience through empowerment and access
Valuing lived experience, and local knowledge
Transparency and downward accountability
Shared resilience
Some of the 'big' questions include:
How can gender responsive climate action lead to resilient communities?
How can we build resilience in fragile and conflict-affected contexts, where many of the world's most vulnerable people live?
How should we decipher the politics of how the UNFCCC is addressing the issues of transparency and downward accountability?
What actions can companies take to reduce vulnerability and enhance resilience in the communities along their supply chains?
You can follow #DCDays17 on Twitter. There will also be live video coverage and interviews with participants.
Registration
The weekend event is free and open to everyone attending COP23. It only requires a simple registration (register here). The venue is Kameha Grand, Am Bonner Bogen 1, 53227 Bonn, Germany
Time

november 11 (Saturday) - 12 (Sunday)
Location

Kameha Grand, Am Bonner Bogen 1, 53227 Bonn, Germany