WEDO AT COP23
The Twenty-Third Conference of Parties (COP23) to the UNFCCCC (United Nations Framework Convention on Climate Change) begins on Monday, November 6th, in Bonn, Germany lasting through Friday, November 17th.
WEDO will work to ensure that gender equality and human rights, including women's human rights, are central to the implementation of the Paris agreement, and all climate policies and actions.
WEDO Delegation
WEDO's will be bringing a strong delegation of activists to the UN climate talks, including feminist leaders from the Pacific, WEDO staff, Board and Advisory members, as well as other allies from the Women and Gender Constituency (WGC). To get in touch with any member of the WEDO delegation, contact Vera Zhou, vera@wedo.org.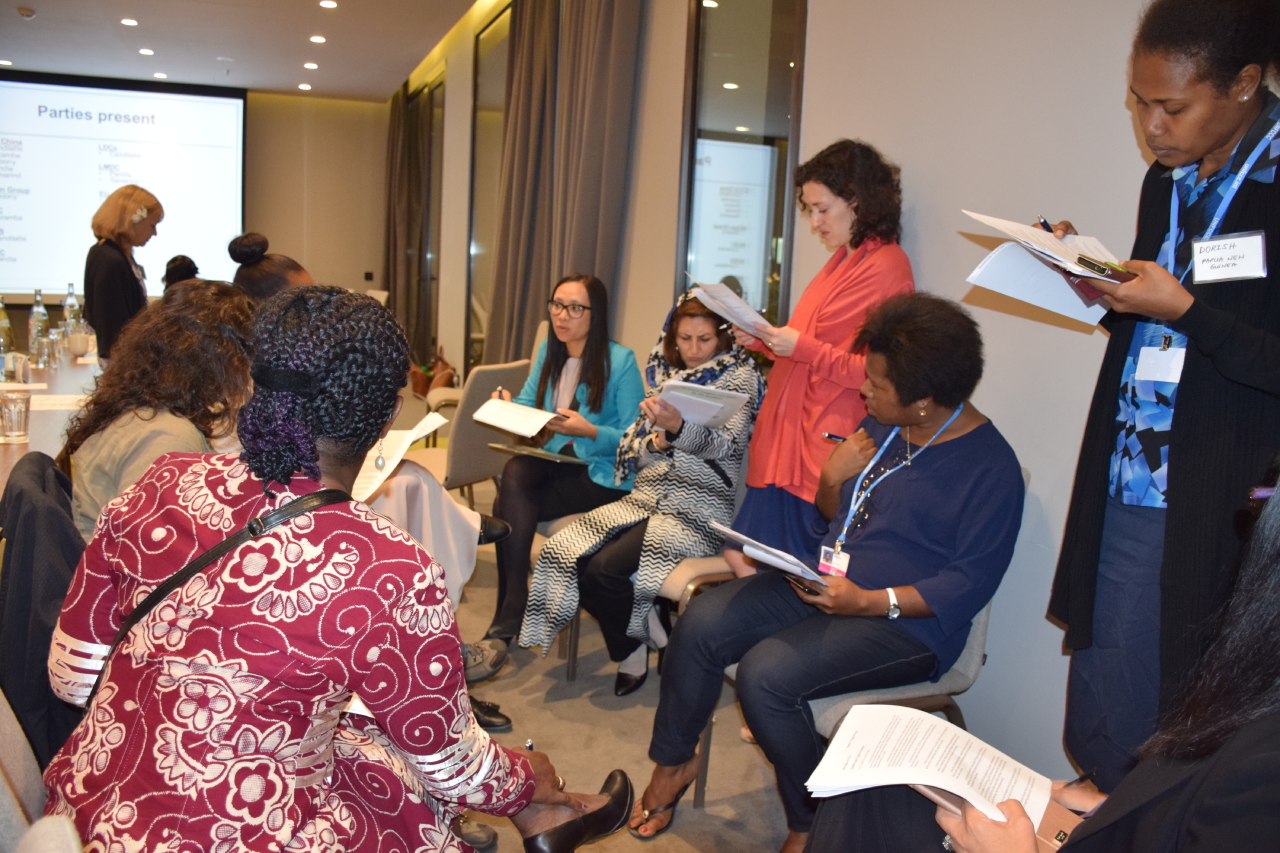 Photo Above: Women Delegates participating in Simulation Practice at Women Delegate Fund Technical Training
Women Delegates Fund
Via the Women Delegates Fund, WEDO will support 20 women from developing countries, including 12 women leaders from the Pacific, to attend COP23 as negotiators on their national government delegations. Countries included are: Tuvalu, Tonga, Solomon Islands, Cook Islands, Palau, Niue, Samoa. Kiribati, RMI, Vanuatu, Fiji, Senegal, Brunei, Antigua & Barbuda, Afghanistan, Malawi, Democratic Republic of Congo, Indonesia, and Haiti.
In addition, from 3-4 November, the WDF will host a training session for 40 women delegates, in preparation for the upcoming session. The training will include drafting excercises and a simulated negotiation session. On Tuesday, 14 November, WEDO, in partnership with the UNFCCC Secretariat and UN Women will host a Gender Day networking breakfast from 8.30-10.00 in the Bula Zone entitled 'Capcity for Change'. The breakfast aims to be a networking space for those engages in capacity building initiatives such as the WDF, as well as ACE National Focal Points and Gender and Climate National Focal Points.
The WDF is supported by the Governments of Australia, Canada, the Netherlands, Switzerland and Iceland. For more information, please contact Bridget Burns, 

bridget@wedo.org

. 
EXCITING EVENTS
[add_eventon_list number_of_months="1″ event_count="15″ fixed_month="11″ fixed_year="2017″ ]
WGC KEY GENDER EVENTS
To Download WGC Key Gender Events here: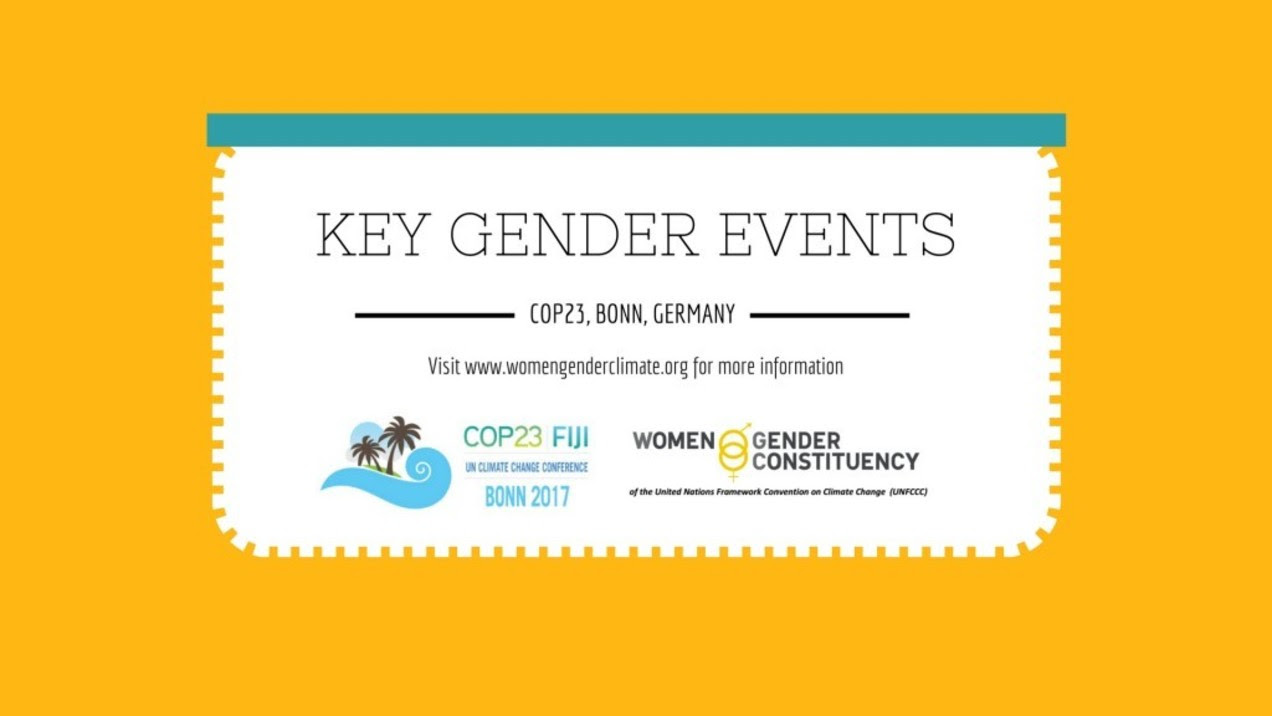 OUR DEMANDS
WEDO has arrived in Bonn, Germany for the COP23 Climate Negotiations. With our allies in the Women and Gender Constituency (WGC), we are here with a set of strong collective demands:
1. Adopt a robust gender action plan
2. Deliver on finance
3. Plan for real ambition via the 2018 Facilitative Dialogue
4. Effectively address loss and damage
5. Implement rights-based national policies
6. Create a rights-based platform for indigenous peoples and local communities
7. Develop rules for community consultation and consent
8. Break free from fossil fuels
9. Move the money
10. Place communities over markets
11. Listen to people, not profit
12. Ensure climate 'solutions' are gender-just
13. Promote energy democracy
14. Protect ecological food systems
15. Be led by ecosystem-based approaches
16. Preserve the ocean
17. Make fisheries and aquaculture sustainable
18. Know that water is life
19. Promote health, including sexual and reproductive health and rights
Read through all the WGC Key Demands in detail below.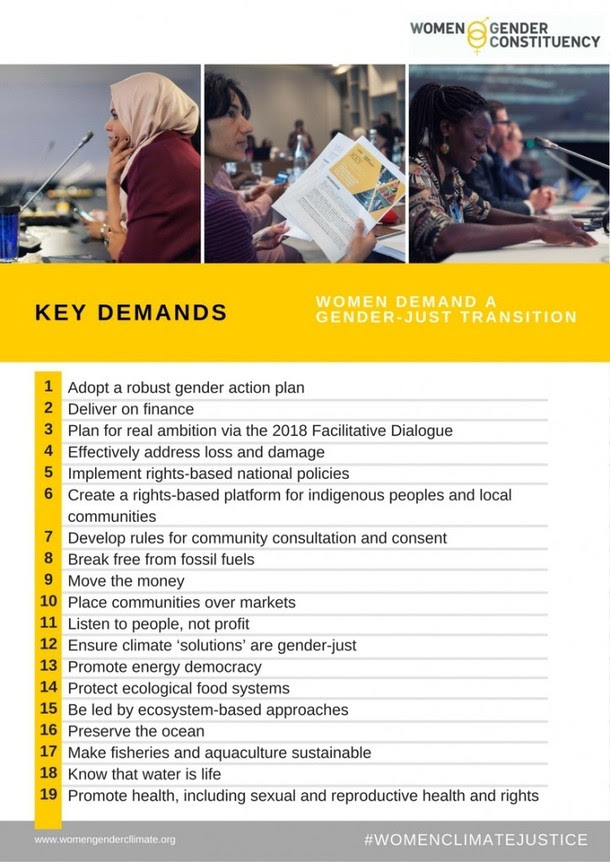 FOR MEDIA INQUIRIES, PLEASE CONTACT:
Vera Zhou
vera@wedo.org
If you are a member of the media who would like email updates from the constituency, please sign up here.