From December 2-13, WEDO was in Madrid, Spain at the United Nations Framework Convention on Climate Change Convention (COP 25) with women and gender rights defenders from more than 30 countries to demand governments deliver on the 5-year Lima Work Programme on Gender by implementing a robust Gender Action Plan (GAP), committing to clear ambition on finance and addressing loss and damage and climate-induced migrations, among other pressing issues.
This same message was echoed throughout our time at the negotiations, where civil society, women's rights and gender groups watched governments attempt to water down commitments to action and ambition in the Paris Agreement, and refuse to take accountability for creating a climate emergency.
From amplifying key feminist demands across spaces to mobilizing for solidarity actions on-the-ground, the Women and Gender Constituency was consistent and effective in its demand for justice, which contributed to one of the strongest outcomes: the adoption of a 5-year Gender Action Plan. However, much more needs to be done to ensure human rights for marginalized groups and protect environmental sustainability.
For real climate justice, we need people power – and as women continue to be at the frontlines of climate change leading just and sustainable solutions, their voices must be included in formal processes. We will continue to advocate for rights and hold governments accountable for the climate emergency, reminding them that feminists demand system change.
You can find the WGC Feminist Demands here, and the full final statement on the negotiation outcomes here.
---
Women and Gender Constituency COP 25 Press Releases:
---
WEDO Co-hosted Events and Panel Videos: 
---
COP 25 Feminist Highlights: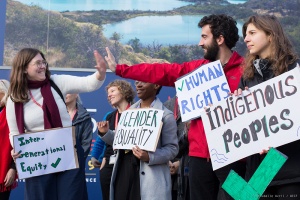 Advances for Gender Equality at COP 25 
After two weeks of tumultuous climate negotiations at COP 25 in Madrid, a 5-year Gender Action Plan  (GAP) was adopted by governments. Women and gender groups, who mobilized through protests and civil society movements which raised political awareness on the GAP, applauded this key outcome. The new GAP calls for greater focus on scaling up gender-just climate solutions, but real action on gender equality must fully implement the Paris Agreement, including limiting warming to 1.5 degrees. "The GAP is a tool to advance progress on both gender equality and effective climate solutions, but gender equality does not live in the GAP. It is realized through just and bold climate action," said WEDO Director Bridget Burns.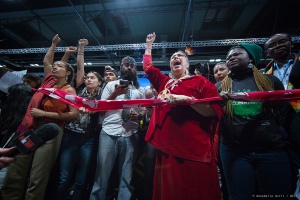 Women-Led Peaceful Protest Met with Police Violence
On December 12, feminists joined a peaceful protest at COP 25 alongside indigenous peoples, youth, trade unions, climate activists and environmental defenders to call for human rights and gender equality in climate negotiations. The protest turned violent when police used force to assault and force activists outside of the premises into the cold – both violating human rights and adding to growing frustrations among civil society, especially groups who continue fighting at the frontlines of the climate crisis while facing threats from authority. We will continue to push strongly for human rights language in policies so that social, environmental and human rights safeguards are in place.
Gathering the Community of Women Negotiators
The COP President, SBSTA Vice Chair and SBSTA Rapporteur brought women negotiators together to celebrate two new initiatives on Dec 5. While discussing the launch of a mentoring initiative that WEDO is co-leading and a new networking forum for senior women negotiators, we also celebrated 10 years of the Women Delegates Fund (WDF), which supported the participation and trained so many of the negotiators in the room. Stella Gama, SBSTA rapporteur and WDF veteran, captured the spirit of hope and progress: "We look forward to having a vibrant network of women leaders." You can find our latest videos on the Women Delegates Fund here.
Women's Rights and Climate Activists Advocate a Feminist Green New Deal
In the midst of the climate talks, climate justice and women's rights activists held a panel to speak to collective feminist demands and next stages for Green New Deal policies in the US and around the world. "When frontline women lead, we win. There are many examples of campaigns where feminist principles of organizing around systemic change were the key to success," said Jaqui Patterson, Sr. Director, Environmental and Climate Justice Program NAACP, who was joined by WEDO, MADRE, the Women's Earth and Climate Action Network (WECAN) and Grassroots Global Justice Alliance among others on the panel.
2019 Gender-Just Climate Solution Awards
WEDO co-hosted the fifth annual Gender-Just Climate Solutions Awards ceremony. Winners included innovative solutions from Colombia, Cameroon and Guinea-Bissau that are creating inclusive development models in local communities and beyond. "We must strive to ensure our response to climate change is not only effective, but inclusive," said CTCN Director Rose Mwebaza.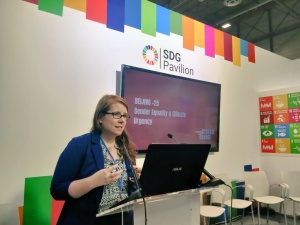 Beijing +25: Gender Equality in the Context of Climate Urgency
On December 5, WEDO co-hosted a special discussion on the Beijing Platform for Action, the landmark global agenda on women's rights and gender equality, and its links to COP 25 and the Generation Equality Forum. WEDO Director Bridget Burns took the opportunity to remind Parties what was affirmed 25 years ago, that we must ensure full implementation of the human of women and girls as inalienable, integral and an indivisible part of all human rights and fundamental freedoms, especially in the context of the climate emergency.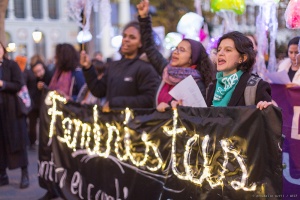 Feminist Block at Madrid Climate March
Feminists from around the world brought the fierce advocacy energy to the streets of Madrid on Friday, December 6 to demand urgent climate action and to call attention to the disparities and injustices women and non-binary people face from climate crisis to domestic violence. "Women and feminists have been on the frontlines of the protests in Chile, as they are on the frontlines of the climate justice movement," said Antonia Zambra, Observatory of Inequalities, Chile.