Available on the App Store (iOS) and Play Store (Android) for free.
Marrakech, Morocco 15 November 2016 – The global community is entering a crucial phase for implementation of the 2015 Paris Agreement on climate change. Governments, UN officials and civil society organizations require tools and technical support to comprehend, track, translate and intervene in global policy processes.
Today, the United Nations Framework Convention on Climate Change (UNFCCC) celebrates Gender Day at the climate negotiations with events tracking progress and highlighting remaining gaps incorporating gender equality in the UNFCCC. WEDO, in partnership with the Ministry of Foreign Affairs, Finland and the Global Gender and Climate Alliance (GGCA), and with key support from the Ministry of Foreign Affairs, Switzerland is launching its newest tool to support the efforts: The Gender Climate Tracker App and online platform.
The application will empower decision-makers and advocates alike to translate policies into action and hold governments' accountable. By compiling policies, mandates, research, decisions and actions related to gender and climate change, the app aims to highlight key gender entry points to facilitate implementation.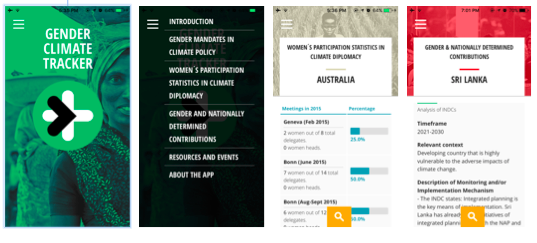 "Successful implementation that leaves no one behind requires gender disaggregated data to identify the gender gaps and move away from tokenistic implementation of strategies by governments towards gender inclusion and well-being," commented Bridget Burns, WEDO Co-Director.
"Having access to information is key for engaging meaningfully in the process of finding gender-just climate solutions. This is why the Swiss Development and Cooperation (SDC) is supporting the Gender Climate Tracker App. It is an innovative knowledge-tool for keeping track on all the gender-decisions under UNFCCC. The Gender Climate App will guide our negotiators to lay the ground for gender-just climate solutions on a policy level. Gender-informed policies in return, will lay the ground for gender-sensitive climate actions which are more likely to be successful," commented the Swiss Development and Cooperation (SDC).
The Gender Climate Tracker App was developed by Lucid.Berlin and is available to download.
Notes for Editors:
Download the app: http://genderclimatetracker.org/support/
See the social media pack: https://drive.google.com/drive/folders/0B8WpeomnurK6VFRBQkxJT0pSVnM?usp=sharing
For further information: Prachi Rao prachi@wedo.org / +1 646 963 5030