"Take up the battle. Take it up. It's yours. This is your life. This is your world."
– Maya Angelou 
Dear WEDO community,
This past week, people all over the world have risen up in revolution against white supremacy, state violence, and the murders of Black people at the hands of police. We have marched against anti-Blackness and a nation predicated on incarceration and punishment, and watched in horror as protesters have been met with violent brutality from the militarized state. We have grieved for Breonna Taylor, George Floyd, Tony McDade, Nina Pop, James Scurlock, and the countless other names we do and do not know whose lives have been stolen over the last five hundred years. These systemic murders and attacks on Black life are occurring amid a pandemic that, due to structural violence, has also disproportionately harmed Black communities. This moment calls for complete clarity over the root causes that have led us here: a culture of pervasive white supremacy and institutions that work to uphold it, whose violent origins can be found in the histories of racial capitalism and colonialism.
To destroy these structures, we must look to the leadership of Black liberation activists who have long envisioned, advocated and struggled for a better world. 
WEDO stands wholeheartedly with the freedom fighters of the Movement for Black Lives and their demands in this ongoing Week of Action. Their demands are the demands of any just world and will be centered in all of our advocacy moving forward: 
We demand the rights of protesters to be respected
We demand a divestment from police & investment in Black communities
We demand immediate relief for our communities
We demand community control
We demand an end to the war against Black people  
The work of each of us looks different in this moment, from those on the streets, to the healers, the writers, the artists, the advocates, and the organizers. But we must all show up. Our Black and Indigenous siblings have–and always will–lead this movement for racial justice and abolition, but they cannot be alone. For our white staff, friends and supporters, there must be a deep responsibility to commit to unlearning racism, strengthening our ability to be anti-racist allies, mobilizing and redistributing wealth, and organizing our white family and communities to do the same. If you are able to be in the streets, we invite you to join us. If you can mobilize funds and resources towards frontline Black-led groups, we invite you to join us. If you can commit to collective and personal education and accountability, we invite you to join us. In taking action, WEDO is committed to continuing to stand in solidarity with protesters where we are, from New York City to rural Illinois, to prioritize funding to frontline Black feminist-led groups, to generating collective resources on global anti-Blackness for our transnational feminist networks, and to doing the lifelong work of addressing internal and structural racism in ourselves, our organization and our communities. We must all take our place in the movement for Black lives and Black liberation, in this moment and forever. 
"Revolution is a serious thing, the most serious thing about a revolutionary's life. When one commits oneself to the struggle, it must be for a lifetime." 
– Angela Davis
WEDO was founded to struggle/strive towards the goal of a peaceful and healthy planet for all. That vision will only be delivered through justice, and through the creation of systems that ensure the rights of all people to live lives free from violence, persecution, climate impacts, environmental degradation, and economic exploitation.
WEDO is listing a wide variety of resources that we have found useful, individually and collectively, for self-education as well as for guiding our own work and directing supporters to Black-led organizations, funds, and voices. We urge all our supporters to explore the resources below. 
---
Happening today, June 5
Breonna Taylor should be turning 27 today. Find action steps to demand justice for her death here.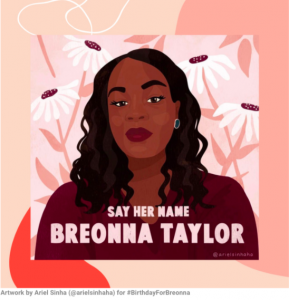 "Why We Need Black Feminisms: Centering Black Feminisms for This Moment and Beyond" RSVP here.

Fire Drill Friday Rally with Leaders from the Movement for Black Lives, watch here: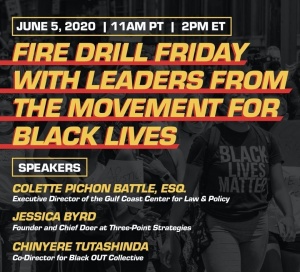 ---
places to donate & take action
---
places to learn