Advancing gender equality and protecting women's rights is central to ensuring access to and control over safe, clean water for all,  preserving forest ecosystems and protecting our planet.
Each year, March 21st (World Forestry Day) and 22nd (World Water Day) are dedicated to recognizing the crucial importance of water resources and forests. World Forestry Day originated at the 23rd General Assembly of the European Confederation of Agriculture in 1971 as a way to increasing public awareness of the global importance of forests. Similarly, during the 1992 United Nations Conference on Environment and Development (UNCED),  World Water Day was founded to highlight the need for the sustainable management of freshwater resources.
As women's rights issues, water and forests are fundamental to a sustainable future – and critical to advancing gender equality.

Women and Forests
Forests are one of the most important ecosystems in the world – essential to sustaining human life. Forests are not only crucial sources of food and wood, but also provide invaluable services such as flood and climate regulation, air and water purification, and biodiversity. Both women and men rely on these material goods and ecosystem services; however, the way people use and manage forests depends on their socioeconomic and socio-cultural environment, age and gender (FAO, 1989). Case studies have shown unequivocally that women and men have gender differentiated knowledge of forests: dependence, usage of material goods, benefits, and access and control of forests are factors that have different meanings to either gender.
Below, we have highlighted our newest publication on forests and gender, outlining the issues and explaining our work on the subject. You can also find more resources on our website.
Women and Water
Water is also a precious natural resource and a human right. As WEDO Board Member Katherine McDonald stated in her speech to the UN Human Rights Council on Women and the Right to Water, the right and access to clean, safe water is intrinsically linked to gender equality. As with forests, in many countries, the management, use and access to water resources is experienced differently by women and men. From the miles and hours women and girls spend collecting water– the implications this has on their health, education and economic opportunity– to the threat of climate change on water resources affecting all aspects of women's and men's lives, it is clear that water is a human rights and women's rights issue.
Check out our Guide to World Water Day, for more information on the day and what you can do to be involved.
The Future We Want
In a time when forest ecosystems are diminishing at an unprecedented rate, while climate change and biodiversity loss increasingly threaten water resources, the world requires ambitious action to take us off our current path. Ignoring the gender dimensions of these issues is not an option. The only means to ensure a sustainable future is to include both men and women's voices in decision-making.
In less than 100 days, the UN Conference on Sustainable Development, Rio+20, will take place in Rio de Janeiro, Brazil. World leaders will be gathered to negotiate a sustainable future. Women must come together to raise their voices on issues such as the right to water and forest preservation- and to emphasize that a sustainable future is not negotiable.
Join us these next two days to recognize and raise awareness on women's rights in relation to water and forests. On the road to Rio+20, these are crucial issues in defining the Future WE Want!
GET THE FACTS
 — Spotlight —
NEW Publication: Forests and Gender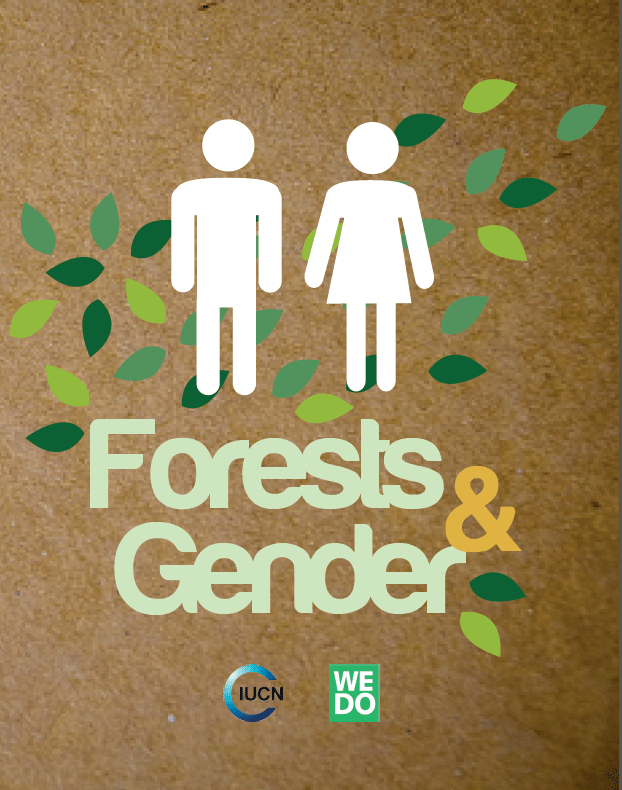 WEDO is proud to present a new publication in partnership with IUCN, which takes a fresh look at some of the aforementioned issues facing gender and forests, and considers how gender is being addressed both on the ground and in policy discussions on climate change.The publication includes case studies from around the world, demonstrating the wealth of learning and experience that is resulting from increased awareness and integration of gender issues within forestry work. It also examines current issues and progress at the international and global levels, and forecasts future challenges and developments. Click here to download a copy.
Key Resources
Factsheet on initial outcomes of WEDO and IUCN gender-sensitive REDD+ workshops
IUCN's International Women's Day Articleon women, deforestation and climate change which highlight key summaries of the outcomes of WEDO and IUCN's work
CIFOR article on women, deforestation and Rio+20
Article– Climate Conversations – "Property Can't Own Property"
For more information on our work around women's rights and forests, please contact Andrea Quesada, andrea@wedo.org.
---
CONNECT
FACEBOOK
When our colleague Andrea visited Uganda and Cameroon for WEDO's work on forestry issues, she captured some wonderful images of the people she worked with there. Alongside other photos from her work, WEDO has put together some cover photos for your Facebook Timeline so you can show your support of women's rights and environmental sustainability. Let us know if you use them, and we will highlight you on our wall!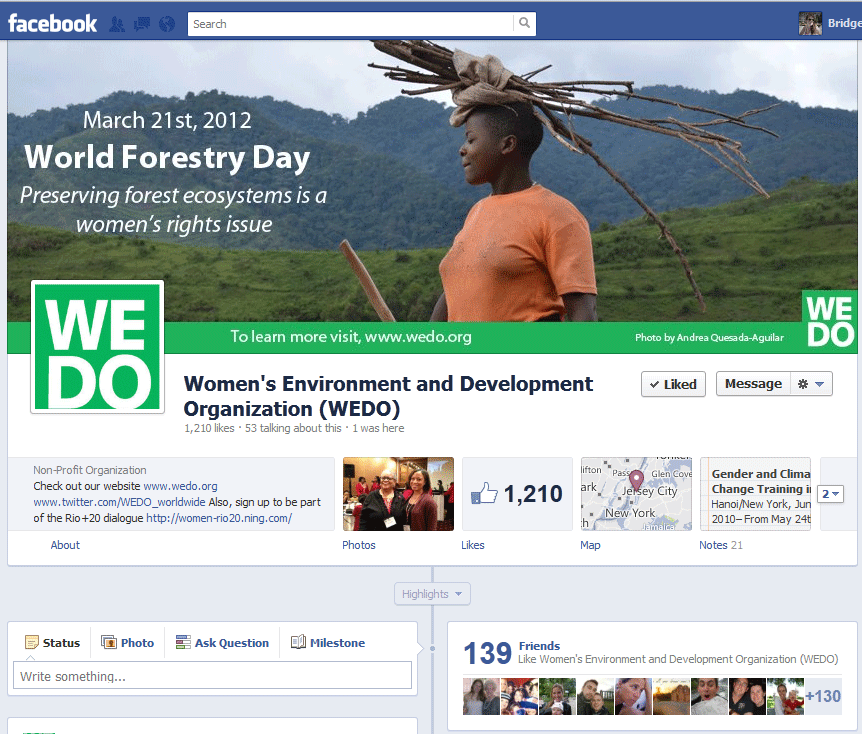 Click on the image to view then right click to "Save Image As".
| March 21st- World Forestry Day | March 22nd- World Water Day |
| --- | --- |
| | |
| | |
| | |
TWITTER
Donate your tweets on March 21st and 22nd to raising awareness about women's rights, forest degradation and preservation, and the right to clean, safe water for all. Share some of the resources above and follow the worldwide conversation using #ForestDay #WorldWaterDay or #WWD. Let us know what you're up to @WEDO_Worldwide.
---
SUPPORT OUR WORK
Help Us Advance Women's Rights at Rio+20  
WEDO is heading to Rio+20 in June, collaborating with friends and partners to advocate for an outcome that represents the diversity of women's views and perspectives and solidifies the central importance of achieving gender equality to secure a sustainable future. Help us ensure women's voices are heard:
Take the Global Women's Rio+20 Survey – Enter to win a trip to Rio+20!*
[English] [Spanish] [French]
Donate to WEDO
Help us to bring women to the negotiations and to support advocacy and communications on site. [Click to DONATE]
*To be eligible, participants must fully complete survey and enter their contact details (name & email). Only women from developing countries are eligible to win.