New York, NY (September 28, 2016) — As Heads of States, ministers, NGOs, women's rights groups and journalists from around the world converged on New York for the 71st Session of the General Assembly (GA), WEDO took part in several key events on the interlinkages of the 2015 agreements, climate change and global governance and women's economic empowerment –  bringing our own unique perspective on transformation and implementation in 2016 and beyond.
The GA in 2016 is a key marker of the implementation phase of the 2030 Agenda for Sustainable Development, which was adopted at last year's GA, and is exemplified by the theme of the GA's general debate, "The Sustainable Development Goals: a universal push to transform our world." The SDGs and the Paris Climate Agreement are both universal, but the ambition to implement the agreements and the commitment to transforming from business as usual to a just and sustainable pathway is not.
Weaving a thread of women's human rights, gender equality, justice and accountability, WEDO's Eleanor Blomstrom challenged governments especially, but also the UN and other stakeholders, to uphold their commitments to achieving gender equality, ensuring respect for all human rights, addressing climate change, shifting to renewable energy, ensuring decent work and more; to fully engage in the implementation processes and their interlinkages; to fulfill resource commitments; and to reconfirm the UN charter and advance a multilateral rather than a corporate-led agenda. She underlined that feminist and women's rights advocates and activists are taking leadership, actively working on the implementation that addresses specific technical issues alongside structural barriers, collaborating across sectors and also holding governments accountable to their commitments.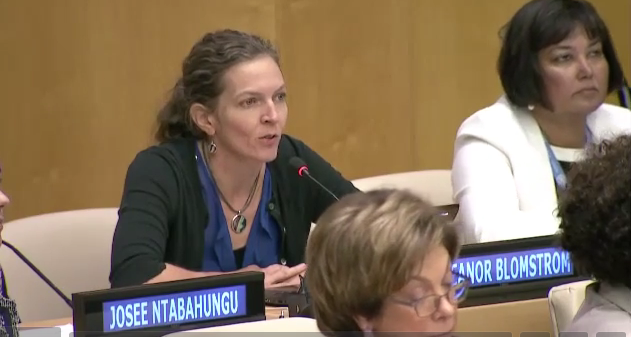 DRRLive: The 2015 Landmark Agreements – Building a Gender-Inclusive Path for Implementation
At #DRRLive: The 2015 Landmark Agreements – Building a Gender-Inclusive Path for Implementation, the  September 15th, Eleanor Blomstrom zeroed in on the SDGs and how they link to the other processes of climate change and disaster risk reduction. Her talk was framed by WEDO's decades of work on sustainable development, the linkages between environment and women, and facilitation of women's voice and participation through women's caucuses in different policy spaces, as well as by WEDO's focus on seeking transformation, which requires an intersectional lens, focus on a just transition, a view of gender-just cities, women's and feminist leadership, and financing mechanisms that redistribute to gender-equitable projects and women's rights organizations.
During the lively discussion among panelists and the audience, it became clear that the agreements are landmarks but don't yet go far enough. We need to continue to focus on space for multiple and difference solutions (not high tech, unproven solutions), identify the intersections as they manifest in different spaces, look at and address the risk drivers, reform finance systems, ensure private sector and corporate accountability to environmental and human rights standards, work to strengthen governance structures across ministries for implementation, call out and reform power relationships, enhance collection, use and analysis of data, and continue to reassess progress. Other speakers included Mr. Neil McFarlane – UNISDR, Mr. Daniel Seymour – UN Women, Dr. Ebru Gencer – Center for Urban Disaster Risk Reduction and Resilience, and Ms. Marguerite Harden – Yale University.
The Blouin Foundation Creative Leadership Summit
The Blouin Foundation Creative Leadership Summit is an annual conference during the general assembly period that aims to foster inter-disciplinary dialogue and creative solutions that address culture, technology and hot-topic global issues such as conflict, poverty and climate change. Eleanor spoke in the session, "Climate Change and Global Governance: Moving Forward After Paris" highlighting the critical importance of normative and legal frameworks and the multilateral system in an era of increased reluctance to commit to international agreements and increased use of bilateral trade and other agreements.
She highlighted the importance of understanding who is impacted by global warming as well as by the solutions to global warming – will everyone benefit equally?
Thus, we need to engage globally in a just transition that clearly looks at issues of gender equality, labor and decent work, intersectional identities, the sometimes dubious role of technology, the importance of distributed energy and the role of multiple and multi-level solutions in ensuring climate and gender justice. The panel was moderated by Andrew Revkin and included Dr. Heriberto Cabezas, Professor Quenton Grafton, Dr. James Hansen, and Dr. Peter de Menocal.
The UN Secretary-General's High-Level Panel on Women's Economic Empowerment
Last, at an event to present the first report of the United Nations Secretary-General's High-Level Panel on Women's Economic Empowerment, Eleanor provided a short intervention from the perspective of WEDO and the Women's Major Group, during the section of civil society speakers. The 1-minute statement reflected concerns of WEDO and the WMG that the panel, co-chaired by the private sector, is not fully in the spirit of the UN and intergovernmental processes and could distract from the work of the UN. It also called on the private sector to stop undermining progress toward equality, e.g. via investor-state settlement disputes, and it called for governments to commit to a Human Rights Council binding instrument for transnational corporations and to a global tax body as key aspects of systemic reforms.  Watch the video (at approx 2:26:05) or read the statement.