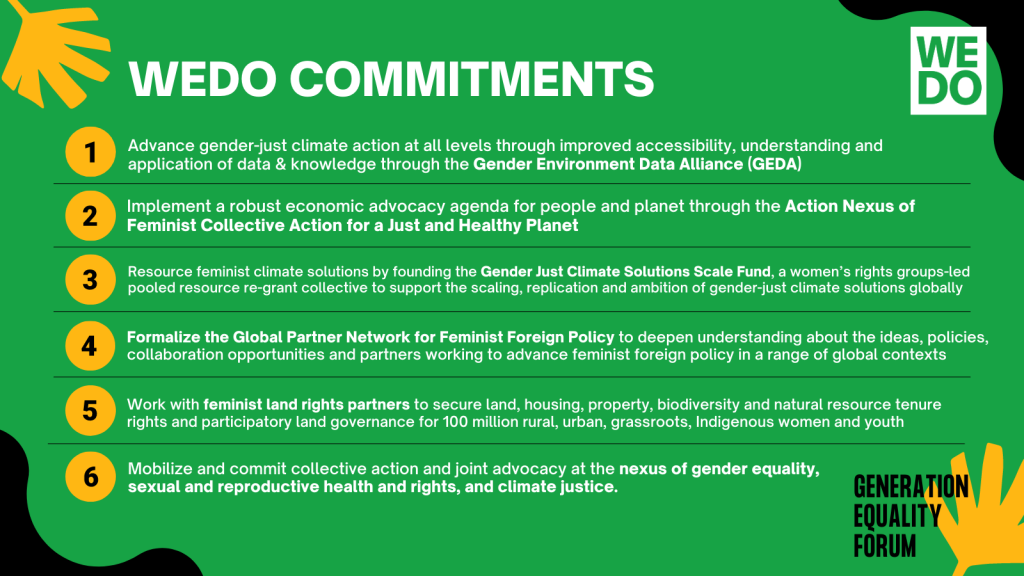 From Wednesday, June 30 through today, July 2, civil society, governments, and private sector actors have been gathering to mobilize around bold commitments to gender equality, including feminist action for climate justice. 
As part of Generation Equality Forum, we are seeing new investments, policy changes and advocacy commitments, all being launched to advance gender justice in alignment with the Global Acceleration Plan.
WEDO is thrilled to share our six commitments to Feminist Action for Climate Justice, from founding an alliance to focus on data at the environment-gender intersection, initiating a scale fund for gender-just climate solutions, and continuing to advocate for feminist foreign policy. We will share more on each of these individual commitments in the coming weeks – stay tuned!
---
Gender and Environment Data Alliance
WEDO and IUCN, together with a group of multi-stakeholder partners, are launching a diverse multi- stakeholder alliance to advance gender-just climate action at all levels through improved accessibility, understanding and application of gender-environment data.
Action Nexus of Feminist Collective Action for a Just and Healthy Planet
Four partners who all share leadership in the Climate Justice and Economic Justice Action Coalitions (WEDO, PACJA, WWG-FfD, and FEMNET), are launching a diverse, multi-stakeholder alliance and Blueprint for Feminist Economic Justice to advance an economic advocacy agenda for people and planet.
Gender Just Climate Solutions Scale Fund
The Gender Just Climate Solutions Scale Fund will serve as a Women's Rights Organization and Groups-led pooled resource re-grant collective to support the scaling, replication and ambition of gender-just climate solutions globally.
Formalizing the Global Partner Network for Feminist Foreign Policy
The Global Partner Network for Feminist Foreign Policy is an informal, global and multi-stakeholder network and dedicated space for the advancement of the field of feminist foreign policy. Its main purpose is to deepen understanding about the ideas, policies, collaboration opportunities and partners working to advance feminist foreign policy in a range of global contexts, and to identify concrete actions and timelines to move this agenda forward.
Collective Women's Land Rights Commitment
As actors committed to achieving the SDGs and keen not to leave anyone behind, we will work together to secure land, housing, property (HLP), biodiversity and natural resource tenure rights and participatory land governance for 100 million rural, urban, grassroots, Indigenous women and youth; and together, will partner to collectively  advocate for recognition of these rights as a foundational condition for achieving gender equality, economic justice, adequate housing, climate action, land degradation neutrality, peace and stability.
Action for SRHR and Climate Justice
Along with partners, we commit to collective action and joint advocacy at the nexus of gender equality, sexual and reproductive health and rights, and climate justice. Enhancing collaboration for joint advocacy at this nexus can help advance mutual goals of effective climate action, gender equality, and girls' and women's health and rights.