Feminists are at the frontlines of movements addressing the climate crisis around the world. They are forging pathways towards true climate justice, centered around human rights, gender equality and the integrity of the environment. What happens when these feminists come together to envision with, learn from, and celebrate each other?
This past Sunday evening in New York City,  some of the fiercest feminist changemakers leading frontline efforts and sustainable solutions across the world came together for an inspiring evening of sisterhood and solidarity – and envisioned what a gender-just world looks like. 
"We come together tonight as feminists always do, to challenge multiple oppressions at once because they occur and recur when we fail to engage intersectionally. We come with fierce love, fierce hope and fierce rage. We come with solutions and an understanding that our voices, and the voices of women' leaders, grassroots and indigenous women MUST be at the forefront of solving this crisis," said WEDO Director Bridget Burns, kicking off the evening with powerful words on the continued work of feminist climate advocates and activists.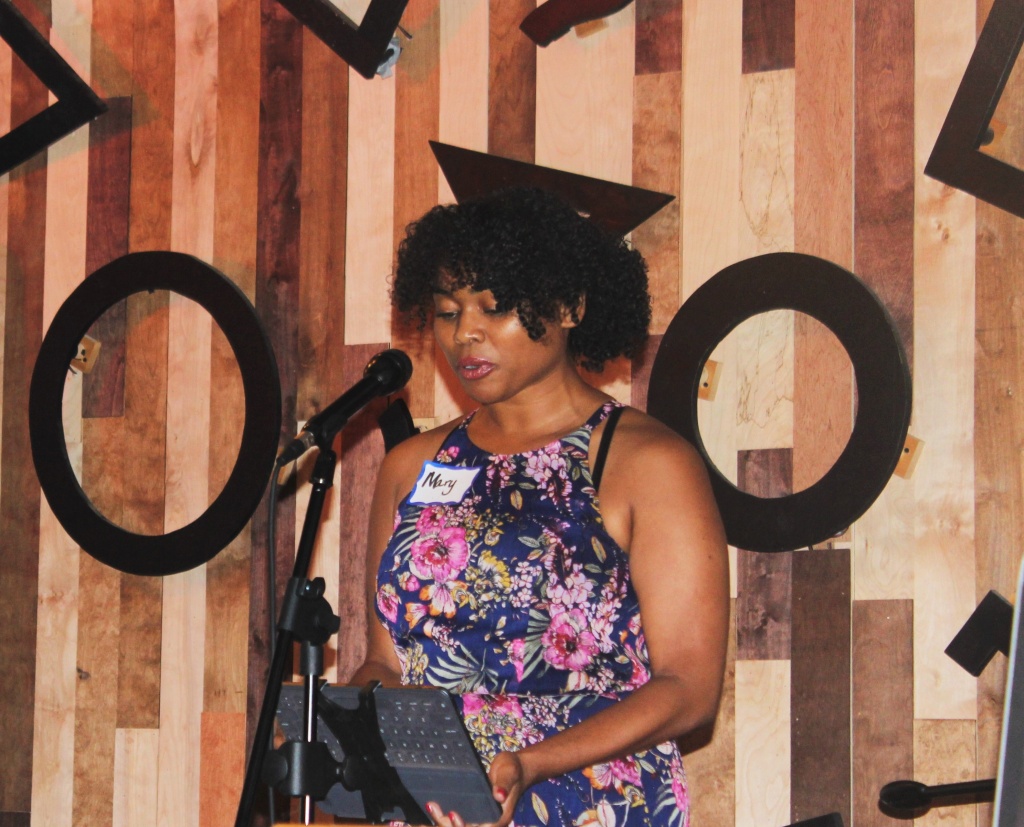 WEDO and event attendees were honored to be joined by climate justice essayist Mary Annaïse Heglar, who reminded us that facing climate change requires us all to be rooted in love with readings from her breathtaking essay "But the Greatest of These is Love". She affirmed that although we feel a range of emotions in this time of climate crisis, only one will keep us grounded. "Sometimes I'm hopeful, sometimes I'm scared. Sometimes I'm overwhelmed, and sometimes I'm downright stubborn…None of those emotions really get to the heart of what I truly feel. None of them are big enough. If I'm honest with myself, what I truly feel is…love."
On a panel moderated by Sierra Club climate justice advocate Jessica Olson, feminists from the Democratic Republic of Congo, Colombia and India shared how they are implementing local, gender-just and human rights based solutions as their communities face the consequences of the climate crisis. "Are you ready to hear some fierce feminist solutions?" Olson posed to the audience to cheers before launching into the questions.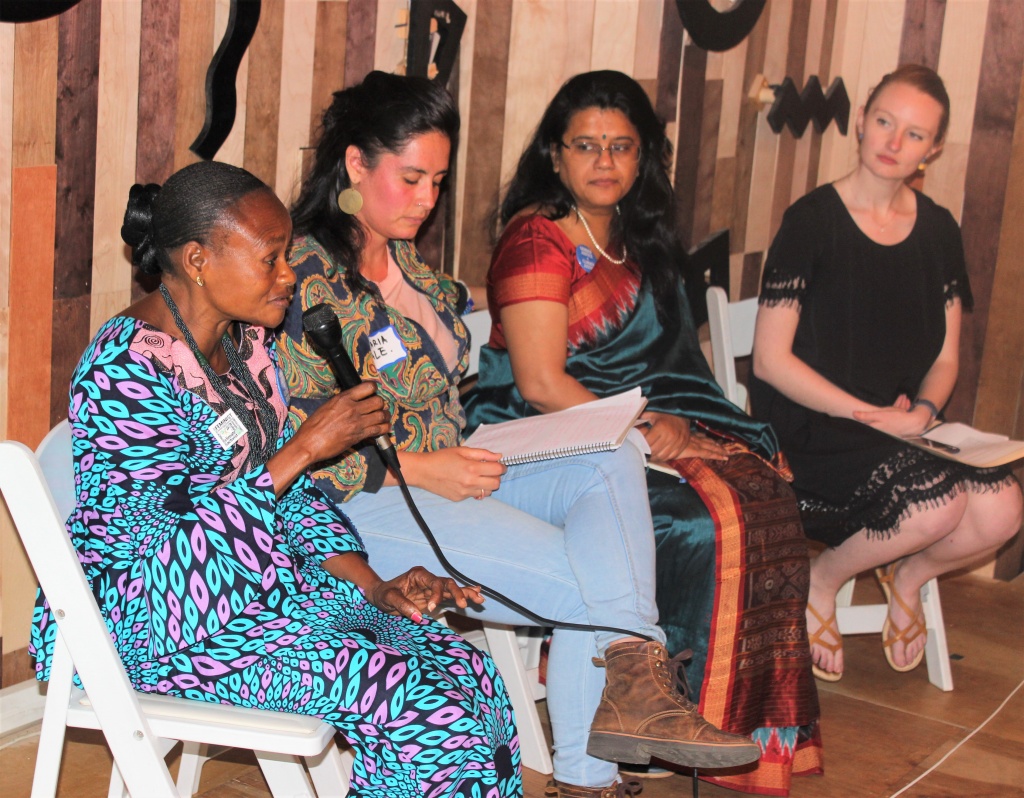 "When women have access to land, there are no worries, there are no problems – hakuna matata!" said Dorothee Lisenga, a land rights advocate for women and coordinator of the Coalition des Femmes Leaders por l'Environnement et le Développement Durable (CFLEDD) in DR Congo. CFLEDD's solution, rooted in land-tenure rights for women, was one of the winners of the Gender-Just Climate Solutions honored at COP24, as the Women and Gender Constituency strives to bring these feminist solutions to the attention of world leaders that can and should support them with resources in alignment with their potential for transformative change.
Maria Alejandra Escalante of FRIDA fund and Colombia's TierrActiva reminded the audience that to build strong, sustainable movements, we must "Celebrate each other's pain, celebrate each other's love, celebrate each other's power."
Alongside Dorothee and Maria was Trupti Jain, another 2018 Gender-Just Climate Solutions Winner, who spoke on her leadership and success with the Bhungroo water management project in India, which has improved crop survival for farmers across rural communities, especially the livelihoods of many women farmers. 
"We cannot push each other away. We have different powers that we bring, and it's time to join efforts," said Lorena Aguilar, Vice Minister of Foreign Affairs and Worship of Costa Rica, who took the stage to share her personal journey as a feminist environmental leader in Latin America, and how Costa Rica's leadership is setting a strong example for other nations to follow in the wake of our climate emergency. 
"Feminist climate advocates have been calling for agroecology, indigenous and women's land sovereignty, distributed solar for many years – solutions that were long called "too small", but are finally being seen for their true power," said Burns, closing the panel discussion.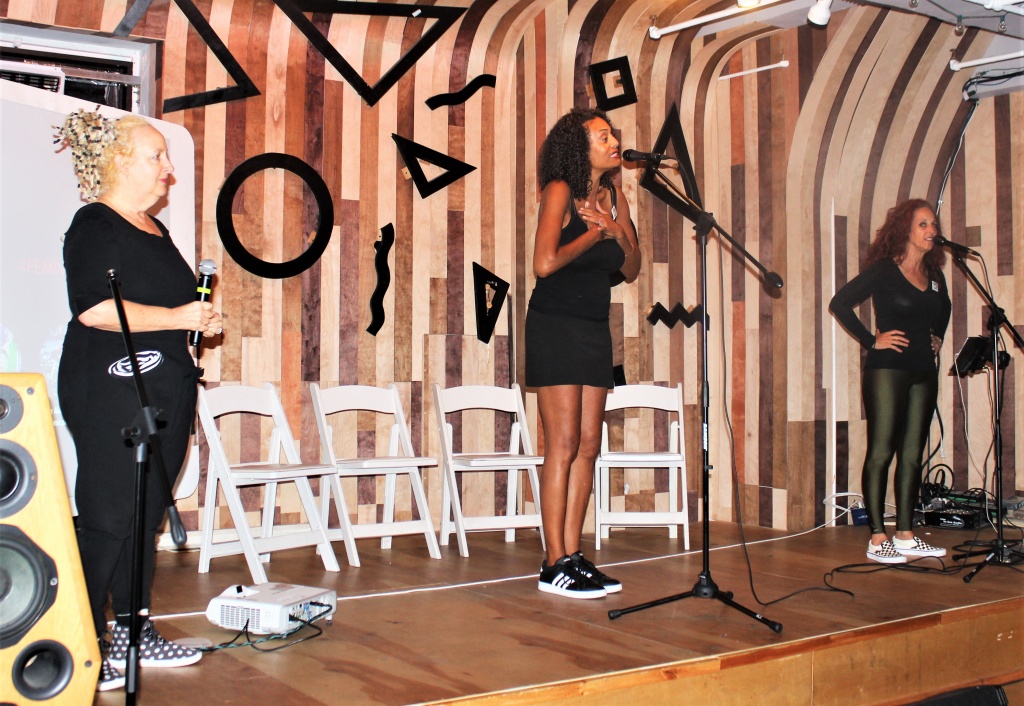 BETTY, a feminist rock group from New York, took the stage at the end of the evening and got everyone out of their seats to sing and dance to their energetic feminist jams from their latest EP release "Rise". For more than thirty years, the fierce trio have been unstoppable activists, spreading messages on equal rights, peace, and the empowerment of women and girls through music and performance.
These powerful moments are what energizes WEDO to continue working and advocating diligently across intersections, carrying forward the legacy of our founders and rising up alongside other fierce feminists to fight for gender justice and human rights in the climate crisis, demanding real action and change for our beautiful planet. 
—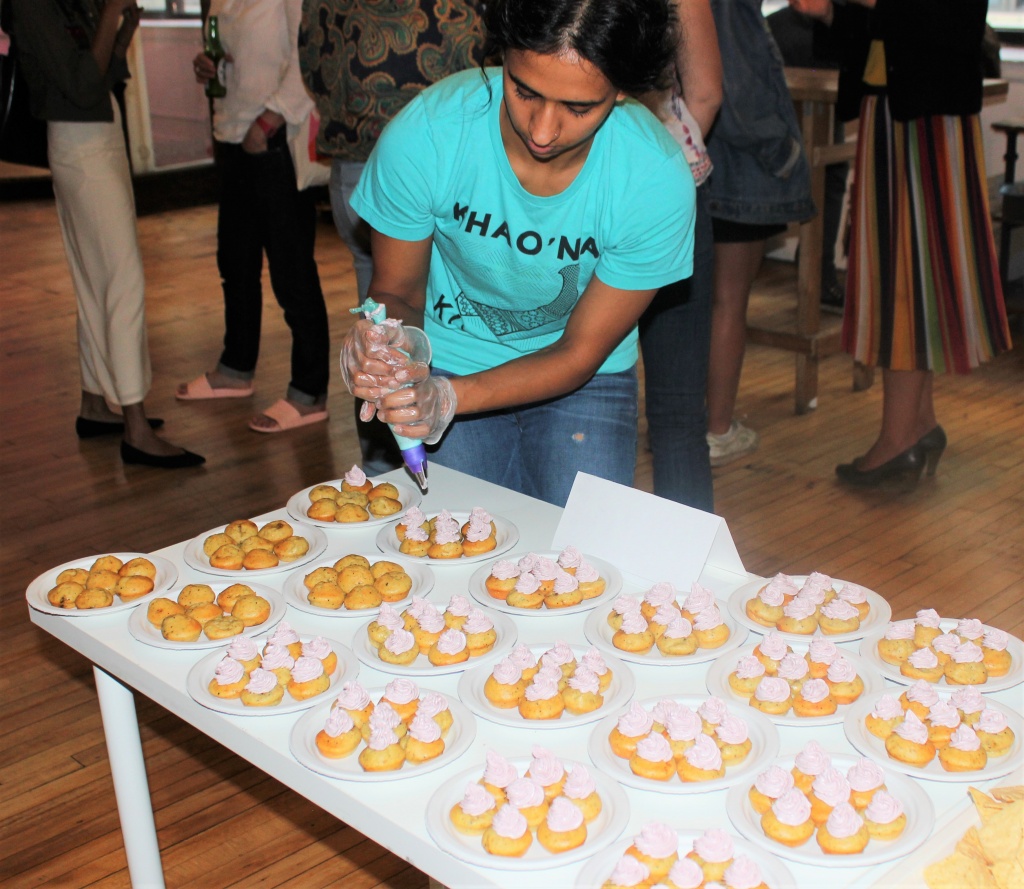 Vegetarian refreshments for the event were provided by Khao'Na Kitchen, a queer, gender non-conforming woman and people of color-run worker cooperative based in Brooklyn, NY crafting healthy Filipino and Indian food.
Fierce Feminist Solutions to Climate Chaos was organized by WEDO, Women Engage for a Common Future (WECF) and the Sierra Club.
See more from the evening on Twitter by following the #FeministSolutions hashtag!