From 6-18 November, the WEDO team was in Bonn, Germany for the global negotiations on climate change, here are some key highlights and reflections:
COP23 outcomes build foundation for rights-based climate action
Decisions coming out of COP23 included two key outcomes related to human rights; 1) The adoption of a two-year 'gender action plan' and 2) The establishment of a Local Communities and Indigenous Peoples Platform.
The development of a gender action plan had been a focus for WEDO throughout 2017, including participation in several consultative meetings with key stakeholders and Parties on what an ambitious plan should look like. The WGC developed a set of key recommendations for the plan, including specific activities to enhance implementation at national level, a clear pathway for achieving gender balance under the Convention and enhancing the participation of grassroots and indigenous women, real commitments to gender-responsive climate financing, and stronger collection and dissemination of sex and gender dissagregated date.
While the plan does touch on these recommendations, many of the activities lack specificity or targets by which to be evaluated, and significantly, funding for these actions is still unclear.
Importantly, the decision builds on the language of the Paris Agreement, reinforcing the fact that gender, human rights, a just transition for workers are critical to climate action.
On adoption of the plan, WEDO's Bridget Burns made the following statement, "We are well beyond the time for real action on gender-just climate policy and actions, and at COP23, we are pleased that Parties are recognizing a lack of progress in shifting from words to action via the adoption of a 2-year gender action plan (GAP). This plan serves as a an important accelerator in advancing multiple mandates for gender equality that exist under the UNFCCC, across mitigation, adaptation and support. But, the test will of course be in the implementation. WEDO and its allies will be holding governments accountable, both developed countries in putting serious financing into gender-responsive policy development as well as all countries in fulfilling human rights via their climate plans. For a truly gender-just climate change framework, while the GAP is a critical tool, we must continue to demand climate justice from the process. This looks like finance for loss and damage, breaking free from fossil fuels, moving money away from the military industrial complex and into social and environmental programs, respecting the rights of indigenous peoples, promoting energy democracy and much more."
WEDO will be hosting a webinar on the gender action plan in January, please stay tuned for registration details. For further analysis on rights in the outcomes of COP23, read CIEL's coverage here. 
Feminists and women's rights advocates claim space for movement building
Feminists and women's rights activists and organizations utilized the space of the COP23 negotiations to build movement and set forward key demands for climate justice. From hosting over 50 events, leading one of the largest sections of the Climate March demonstration in Bonn, to the powerful space of the women's caucus each morning, the Women and Gender Constituency continues to grow a strong network for advocacy at this critical intersection.
You can watch this video, made by Alexandra Lutz, to get a better sense of our collective work together, as well as explore the wonderful photos on the WECF Flickr.
Women leaders lead
Via the Women Delegates Fund, WEDO supported 20 women from developing countries, including 12 women leaders from the Pacific, to attend COP23 as negotiators on their national government delegations. Countries included are: Tuvalu, Tonga, Solomon Islands, Cook Islands, Palau, Niue, Samoa. Kiribati, RMI, Vanuatu, Fiji, Senegal, Brunei, Antigua & Barbuda, Afghanistan, Malawi, Democratic Republic of Congo, Indonesia, and Haiti.
In the halls, the negotiating rooms, and the outcomes of COP23, the women supported by the WDF took this opportunity to lead, and importantly to focus their leadership on implementation at home. Take Shema Roberts from Antigua and Barbuda. At the climate negotiations, Shema spoke up and stepped up – determined to address inequality in access to opportunities for women in the renewable energy field. She sought out engagements, meetings and events with key stakeholders working in this field, and was inspired by the cases of other developing countries making the transition to renewables. She is now leading a renewable energy project back in Antigua and Barbuda– making her mark and inspiring others. Then there is Ida from Niue, who upon return to her country set off to present the outcomes of the COP23 to the Niue Council of Women and support her country on a food security project with the Green Climate Fund. Or Stella Gama of Malawi, who co-authored a paper on Least Developed Countries' experiences with the UNFCCC technology mechanism to support key recommendations for LDC countries. These are just a few of some of the incredible stories of impact made possible via the WDF.
Gender-Just Solutions in the spotlight
At COP23, the Women & Gender Constituency's (WGC) held it's annual award ceremony & publication launch for the 'Gender-Just Climate Solutions'. Each winner has received a seed grant of 2,000 Euros, travel support for one representative to attend the awards ceremony, one year of mentorship activities from the members of the WGC, and the opportunity to participate in a skills training workshop held by Climate and Technology Centre and Network (CTCN).
In 2017 there was a record number of 158 applicants, 24 were shortlisted for the publication (including the 3 winners).
WGC and its member organisations engage on the ground and at international negotiations to ensure that the world's leaders integrate gender equality while implementing the Paris Agreement. "We know the gender just solutions to a sustainable future already exist – it is time to showcase them far and wide!"
DOWNLOAD the full publication in ENGLISH | FRENCH
Exploring links between gender, climate change and migration
COP23 saw more events on the topics of migration and displacement than in any previous years. WEDO contributed the feminist and gender dimension by sharing key learning and recommendations from an action research project that it undertook in partnership with CoopeSoliDar in the Dry Corridor of Central America (infographic in Spanish and English). An event with International Organization of Migration (IOM), UN Women National Committee Germany (NKD) and the Women's Bureau of The Gambia looked at Central America, the Gambia and the international context, where WEDO and others underscored the critical need to engage women as leaders, ensure a rights-based approach, build coherence among existing frameworks, push for accountability and enhance the research and data.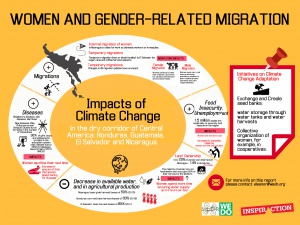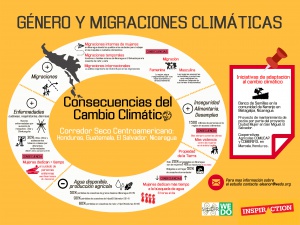 WEDO and allies will be sharing further analysis and comprehensive next steps on the outcomes of COP23 at the start of 2018.
We will never give up on our beautiful planet, and we will never stop our campaign for climate justice!