WEDO, as the focal point for the Women and Gender Constituency, will facilitate women's participation, advocacy and impact at the Global Platform for Disaster Risk Reduction in Cancun, Mexico.
WEDO AT THE GLOBAL PLATFORM FOR DISASTER RISK REDUCTION
The Women and Gender Constituency (WGC) facilitates meaningful participation of women's groups and other organizations and social movements interested in and working on disaster risk reduction, climate change, development and humanitarian issues and the interlinkages with women, women's rights, gender equality and diversity, in disaster risk reduction (DRR) processes at the United Nations. The WGC is an open group that has grown out of the Women's Major Group (WMG) for DRR, which was the facilitating body for the Sendai Framework (Third World Conference on Disaster Risk Reduction) that was adopted in 2015. The WGC  is committed to ensuring that effective implementation of the Sendai Framework is rights-based and gender responsive, so that all people, in all their diversity — gender, sex, sexual orientation/gender identity, age, race, ethnicity, geography, income, migrant status, and ability – contribute to and benefit from it. The WGC is also committed to achieving women's human rights and gender equality. Members of the WGC are diverse: working, for example, on indicators and advocacy; at grassroots and international levels; in service delivery and project implementation; with indigenous women, women with disabilities, older women and LGBTQI.
For more information, contact Eleanor Blomstrom, Women's Environment and Development Organization, eleanor@wedo.org
EVENTS 
WGC Strategy Meeting
Strategy Meeting offers an opportunity for members of the WGC and allies to discuss and finalize Key Messages, Official Statement, speakers at side events, etc.
Time: 22 MAY 2017, 17:00 – 18:30
Location: EXPO Center 4
Women Leadership preparatory meeting
WEDO, along with UNISDR, UN WOMEN and Gender and Disaster Network (GDN), organized the preparatory meeting for women's organizations prior to high-level Thursday event on women's leadership: To bring the field-based and global perspectives, best practices and lessons learned for gender responsive DRR of women's organizations into the Sendai Framework implementation discussions; To identify urgent steps to take to achieve gender equality and parity by 2030;To discuss opportunities and recommendations for promotion of women's meaningful participation and leadership in disaster risk reduction processes, ensuring substantive results for women and girls affected by disaster.
Time: 23 MAY 2017, 17:00 – 19:00
Location: EXPO Center 4
Global Platform for Disasters From Sendai to the SDGs: Institutionalizing Grassroots Women's Leadership for Greater Resilience
Both the Sendai Framework and the SDGs recognize the importance of ending all forms of discrimination against women and ensuring women's full and effective participation and equal opportunities for leadership at all levels of decision-making. Empowering women as public actors and change agents is a critical ingredient for building resilience. This side event will focus on how grassroots women leaders have been working together with their local, national and regional authorities and external agencies to foster collaborative and inclusive planning and decision-making processes that measurably reduce risk and vulnerability to natural hazards and climate change.
Time: 24 MAY 2017, 17:45 – 18:45
Location: EXPO  C1
Further detail can be found here.
Women and Gender Events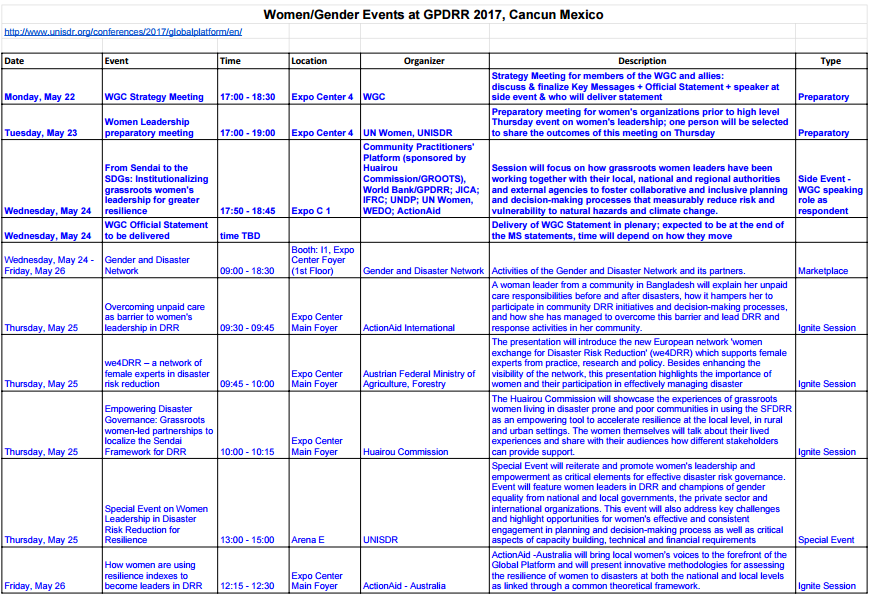 Schedule of events at GPDRR 2017