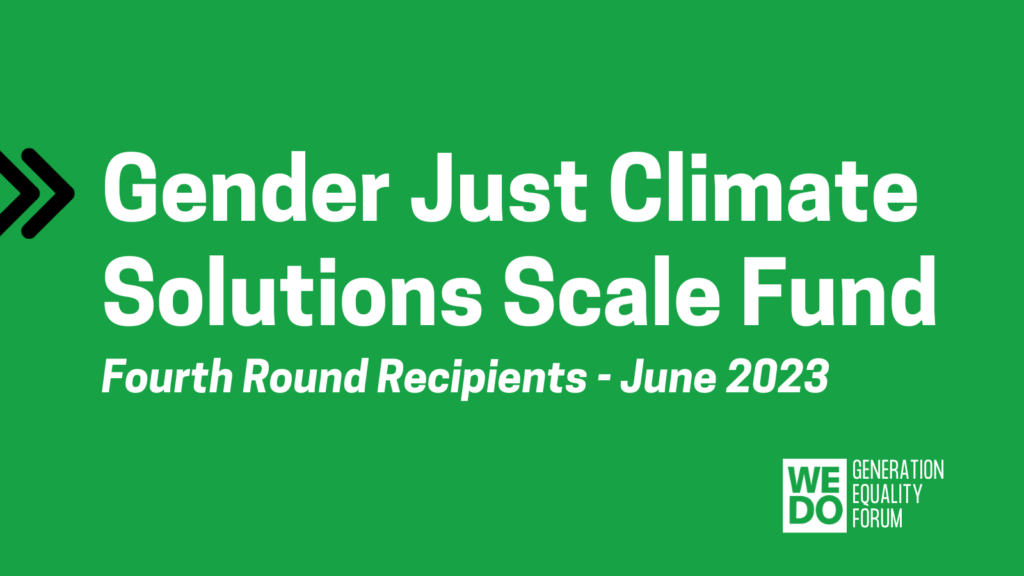 Seven projects from around the world – showcasing climate solutions that are gender-just, community driven, and sustainable – have been selected as the next round of recipients of the Gender-Just Climate Solutions Scale Fund: 
Action for Youth and Environment (Cameroon)
Aprendizaje en Movimiento (Ecuador)
Centre for Social Policy and Development (Pakistan)
Little Earth (Tajikistan) 
Naireeta Services, Bhungroo (India) 
Rice Watch Action Network (R1) (Philippines) 
Rural Women Network (Kenya) 
Launched at the Generation Equality Forum in 2021, the Gender-Just Climate Solutions (GJCS) Scale Fund is a re-grant collective that seeks to respond to the challenges described by the solutions highlighted through the GJCS Awards Program and provide another avenue for flexible, feminist funding.
The June 2023 round of GJCS Scale Fund solutions are supported by the Swedish International Development Cooperation Agency (SIDA) and the Irish Government. The awardees represent seven multifaceted solutions from Kenya, Ecuador, Pakistan, India, Tajikistan, Cameroon, and the Philippines.
The GJCS re-grant collective builds on decades of feminist mobilizing for climate solutions to provide access to direct funding opportunities for solutions to scale up current programming and offers technical assistance to address institutional capacity, such as proposal writing and developing communications materials. The small re-grants are intentionally flexible and need-driven, supporting a wide array of activities.
---
Action for Youth and Environment (Cameroon)
"The vision of Action For Youth and Environment for the Future is a world where environmental sustainability and social justice are at the forefront of all decision-making processes. Through the Scale Fund, women's initiatives in Cameroon in the environmental and community economic development sectors will achieve significant progress toward this goal by providing sustainable support and mentorship to initiatives that prioritize these values."
Aprendizaje en Movimiento (Ecuador)
Within their community, the Eperara have considered conserving 70 hectares of forest, however, we do not have information about it. This is where our joint motivation to generate information, methodology and participatory research begins to preserve what we have and make better decisions based on data. This scaling fund will allow us to generate new capacities so that women have tools about data science, as well as regenerate and restore areas of the community that have been degraded and turn this space into an outdoor learning environment.
Centre for Social Policy and Development (Pakistan)
"Climate change has increased the vulnerability of women because of pre-existing gender inequalities alongside some serious threats to their health and survival. Whenever we talk about women's health and security, we cannot detach SRHR from their socio-physical and psychological well being. CSPD is struggling for equipping and empowering the rights-holders (women and young girls) for sensitization, motivation and mobilization of duty-bearers (policy makers, relief agencies and charity organizations) for integration of SRHR with disaster response protocols and of course, with overall climate change adaptation strategy. The core theme behind the replication is carrying out policy advocacy for integration of SRHR with disaster response protocols/ disaster risk management."
Little Earth (Tajikistan)
"Little Earth's projects aim to contribute to improvement of life conditions of local mountain communities and to the sustainable use of local natural resources through awareness raising, capacity building activities and introduction of clean energy solutions; these projects are being implemented in the Yagnob valley and Dashtijum region of Tajikistan. Little Earth will utilize the Scale Fund support to purchase needed technical equipment, conduct training on the new equipment, and organize tours for national media to target experiences in the Yaghnob valley."
Naireeta Services (India)
Naireeta Services aspires to capacitate ultra-poor, climate-vulnerable women smallholders to become Women Climate Leaders for emancipating their peer women stallholders from abject poverty, food-insecurity, climate shocks through its globally acclaimed innovation BHUNGROO within Gender-Inclusive-Climate-Justice model & Mahatma Gandhi's principle of Antodaya. Narieeta Services (NSPL) will utilize the scale fund grant to scale up their Bhungaroo project through a website redesign to create a user-friendly, informative, and visually appealing platform that can attract grants, engage with affluent farmers, and establish connections with government agencies and corporate partners.
Rice Watch Action Network (R1) (Philippines)
"R1's Vision: Climate-informed, resilient, healthy and happy families and communities actively engaging development stakeholders for safe communities and sustainable, productive agricultural systems. 
The Scale Fund will help enhance our climate innovations and create a more gender-specific advocacy and climate services to benefit both men and women farmers. We hope to present the findings and results of this project in a Climate Information Services Conference to generate more interest in applying climate information to build resilient communities."
Rural Women Network (Kenya)
"The vision of the intervention supported by the scale fund aligns with the overall project vision of – resilient grassroots' women and communities, enjoying household food and nutrition security in a sustainably managed environment. The grassroots women in the target community will have the knowledge, skills and capability to lead the community in sustainable production of nutritious food. They will lead the entire community in production of nutritious foods. They will be selling the excess foods profitably for incomes to meet other livelihood and dietary needs. Overall; a gender-just, healthy society in a sustainably managed environment will be achieved."