Last week the 66th session of the United Nations Commission on the Status of Women (CSW66) came to a close, for the first time addressing gender equality in the context of climate change and the environment as its core theme. As the first multilateral gathering since the latest IPCC report on the deadly consequences of climate inaction, CSW was an opportunity for governments to make more ambitious commitments— toward progress on both gender and climate justice.
"This year's CSW should have been a moment to center ecosystem-based and gender-just solutions to the climate crisis grounded in the leadership of Indigenous and frontline communities," said Senior Program Manager Katie Tobin, who led WEDO's advocacy. "Instead, many countries that position themselves as strong allies when it comes to human rights and gender equality have been hesitant to make meaningful climate commitments."
Working together within the Women's Rights Caucus (WRC)—a global coalition of more than 200 feminist organizations, networks, and collectives—WEDO and partners advocated throughout the negotiation process for feminist demands from civil society to be included in the CSW outcome.
Pushback from Global North governments ultimately led to the exclusion of several of our key demands, including debt justice and a commitment to real-zero, rather than net-zero, emissions. Despite this reluctance, the final outcome does include mention of the need for gender-responsive climate finance as well as addressing the socio-economic and environmental loss and damage caused by the climate crisis. And, for the first time in its history, CSW made an explicit connection between sexual and reproductive health and rights (SRHR) and climate justice. This language provides an important foothold, but it's just a start—and governments of the Global North need to go a lot further in acknowledging their responsibility for climate change and their commitments to progressive and measurable steps towards climate justice.
Watch: The Women's Rights Caucus Press Conference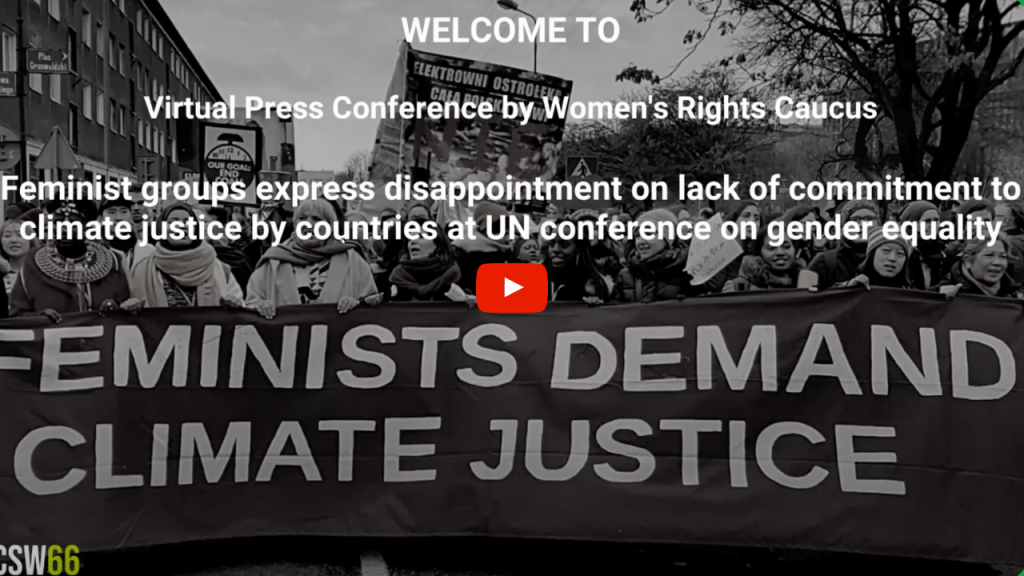 Feminist Gathering at CSW
As the principal global gathering on gender equality, CSW66 failed to enable, let alone listen to, civil society's participation. By indicating that access to the UN would open just three days before the start of the conference, the UN significantly limited the participation of civil society groups and frontline communities, especially from the Global South. 
Nevertheless—due to the privilege of being based in New York—members of WEDO and the Women's Major Group Secretariat, alongside several of our partners, were still able to meet in person and lift up local and feminist-led solutions to the climate crisis within this limited space. 
"As always, being in community with other feminists—in person as well as virtually—allowed us to strategize together, laugh together, and find joy amidst a challenging few weeks," said WEDO Program Manager Mara Dolan. "We were overjoyed to host a gathering of young feminists in MayDay Space in Bushwick, a community organizing space in Brooklyn, as well as a mixer with CSW feminist advocates."
In the Media
ICYMI: A Snapshot of WEDO's CSW Events
Feminist Climate Justice Speakout: NGO CSW Consultation Day Panel Discussion: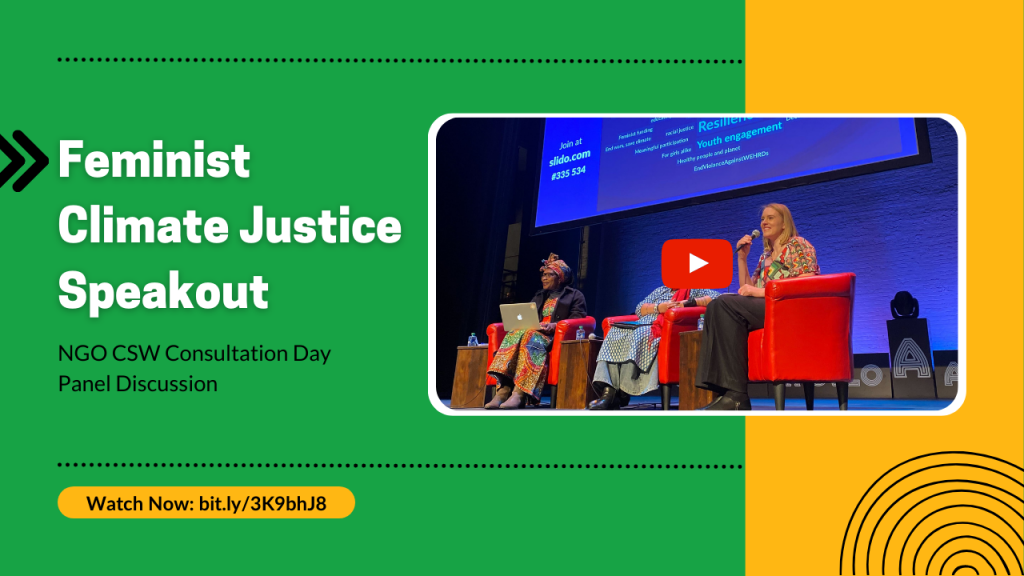 Gender Just Climate Solutions: Envisioning Feminist Climate Finance [Recording coming soon!]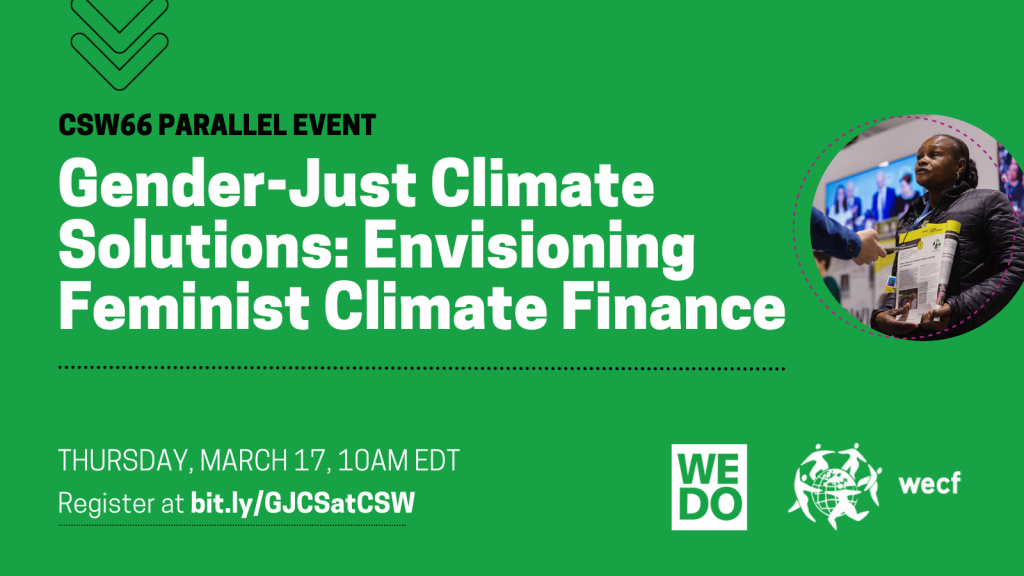 Debunking the Myth of False Solutions, Towards Feminist Climate Justice: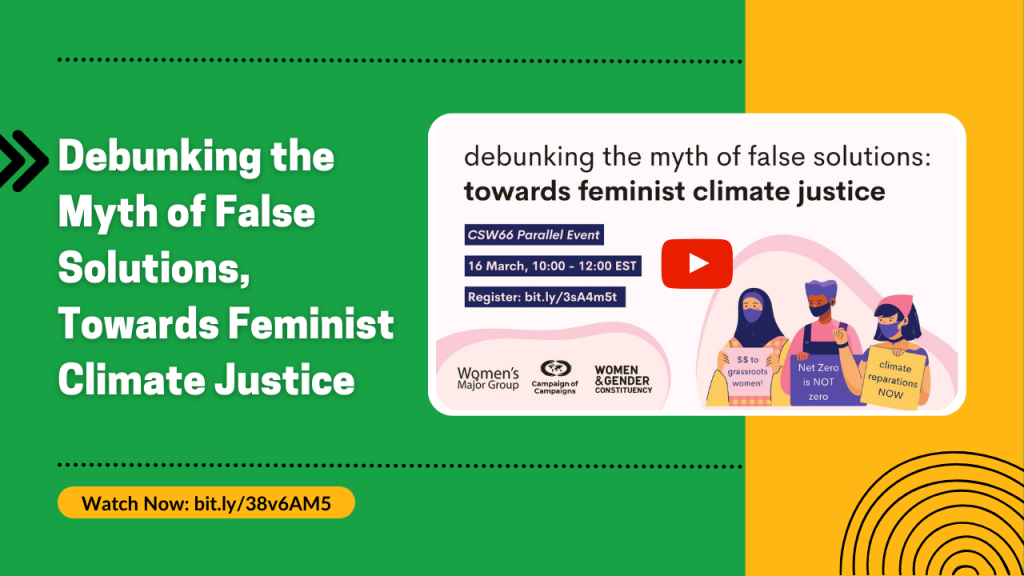 Gender Equality for Climate Justice: Feminist Action for Climate Justice Action Coalition: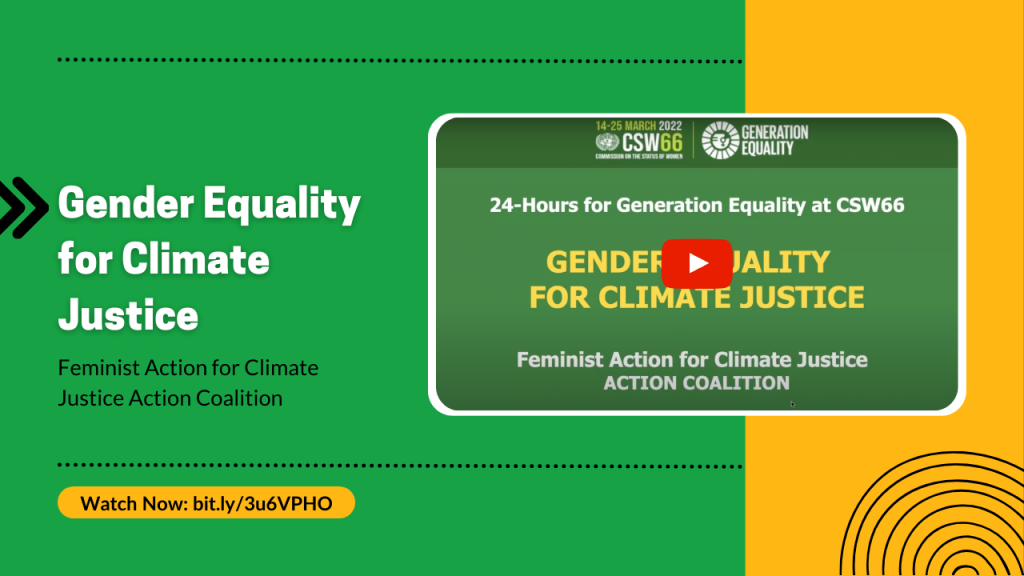 CSW66 Youth Forum: Gender Equality In The Context Of The Climate Crisis: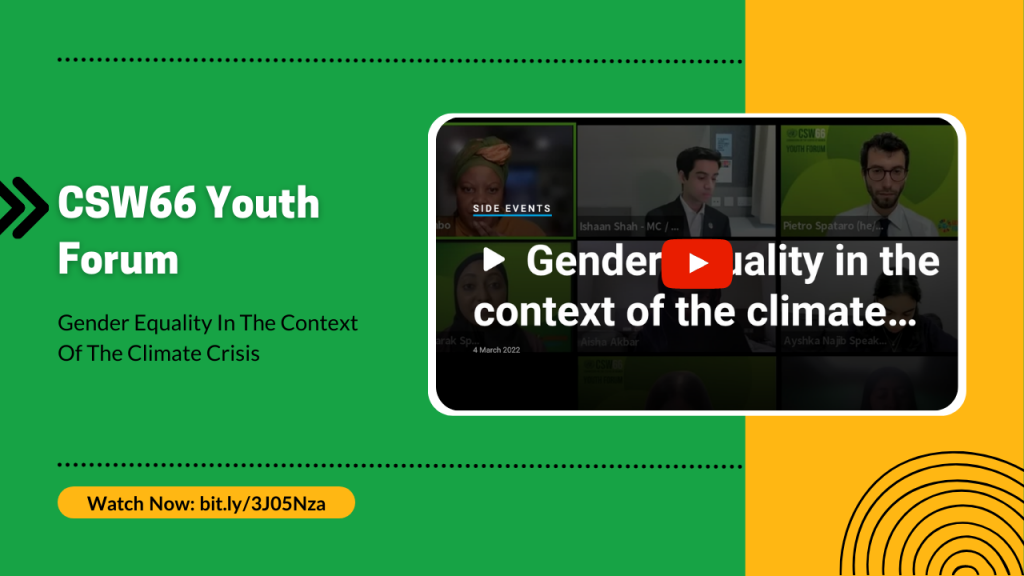 Additional Events
March 11, 10-11am EST | Climate Finance and Feminist Activism 
Organized by: Equality Fund, GAGGA, GGF and WEDO
View the recording.
15 March, 8am-9:30am EST | Parallel event: SRHR & Climate Justice: Advancing a Human Rights Based Approach
Organized by WGC, SRHR Coalition and WEDO
View the recording.
15 March, 8am EST | Side event: Tackling gender inequalities for advance human rights, climate adaptation and climate justice
Organized by Mexico's Ministry of Foreign Affairs; co-sponsored by WEDO 
15 March 10am-12pm EST | Strategy Session: Resisting Corporate Power and False Solutions: A Cross-Regional Feminist Climate Justice Strategy Session
Organized by AWID, PODER and WEDO

15 March 12pm-2pm EST | Parallel Event: Advancing  Gender Equality in the Context of Climate Change, Environment, and DRR for the Empowerment of Women and Girls
Organized by Ilitha Labantu; WEDO's Alex Gordon to speak

16 March , 8:30 – 9:45am EST | Side event: Towards a Gender- and Climate-Just Economy: Financing the Climate-Care Nexus
Organized by UN Women, Mexico, Sweden, Costa Rica (TBC), ILO, GGF, ITUC, DIVA and WEDO
View the recording.
17 March, 9:00-10:30 am EST | Side Event: Climate Justice and SRHR: the Criticality of Women's Leadership
Organized by UNFPA and the SRHR & CJ Coalition; Supported by WEDO

17 March, 9-10:15am EST | Side Event: Care & climate (Oxfam + Canada)
Organized by Oxfam, Canada, Philippines; WEDO's Mwanahamisi Singano to speak
21 March, 6am -7:30am | Parallel Event: Building a New Feminist Social Contract for Climate Justice
Organized by Christian Aid, WGC and FEMNET

22 March 10am | Parallel Event: Representation Matters for Climate Justice
Organized by National Democratic Institute and NY Women in Film and Television; WEDO's Mwanahamisi Singano to speak
23 March 12pm-2pm | Parallel Event: Propuestas feministas para lograr la justicia climática // Feminists proposals for climate justice
Organized by Consejo Nacional de las Mujeres de Catalunya (CNDC); WEDO's Andrea Vega Troncoso to speak
24 March 8pm-9:30pm | Parallel Event: Innovation for Change: Empowering Communities for Climate Resilience and Adaptation
Organized by ARROW; WEDO's Tara Daniel to speak