New York, NY (October 28, 2016) — WEDO is saddened at the news of Joan Nixon's passing. Joan was a fierce feminist and an ardent advocate in the gay and lesbian community, and she was a supporter of Bella Abzug as well as a long-time friend of WEDO. Long after Bella's death, Joan stopped by WEDO to visit and pay her respects. We are so grateful that Joan has always been supportive of WEDO's work and mission, and we will miss her dearly.
Joan Elizabeth Nixon, 75, formerly of Wabash, Indiana, died Monday, October 24, 2016, at Beth Israel Hospital in New York City. She was born July 1, 1941, in Peru, Indiana, to Joseph and Marian (Hamp) Nixon.
She was a 1959 graduate of Knox High School, in St. James, NY, a 1964 graduate of Wellesley College in Wellesley, Massachusetts, and received her Masters Degree in history from Indiana University in 1969.
She worked three years as a news photographer at the Frankfort Times, one of eleven companies in Nixon Newspapers. From 1973-1976 Joan worked for Lavender Women Newspaper in Chicago, and from 1976-2014 she participated in a New York City Harvard study group on manic depression. Joan was a driver for Bella Abzug, a U.S. Congresswoman, in 1976, and was her driver for 22 years, until Bella's death. Joan helped Hunter College, the Women's Environment and Development Organization (WEDO), and also sponsored, the Woman Band, the first feminist music festival in Sacramento, California.
There will be no services. Memories and condolences may be shared online at Grandstaff-Hentgen.com. WEDO would like to extend our deepest sympathy and condolences to  her sister, Eugenia Fulkerson, of Warsaw, Indiana, two brothers, Don Nixon, and Joseph Nixon, both of Indianapolis, Indiana.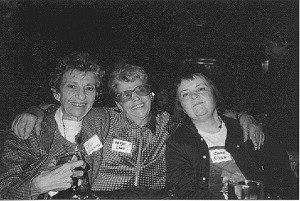 Pictured: Dell Williams, Bettye Lane, Joan Nixon
Photo: Joan Roth