Welcoming new WEDO Board Chair and Members
WEDO is excited to celebrate Anabella Rosemberg as its new Chair of the Board of Directors, as well as welcome new Board Members Brenda Mofya and Ed Harrington.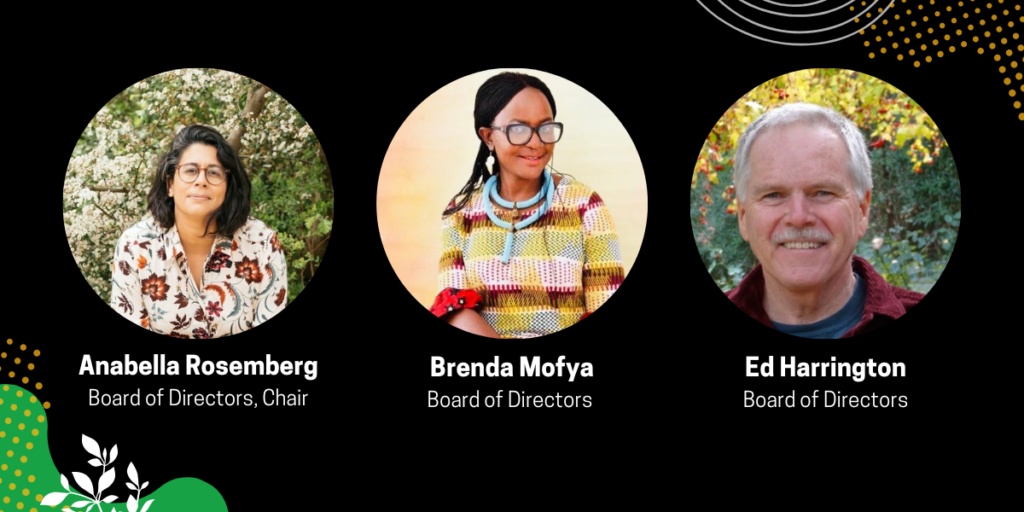 WEDO looks to the future with the leadership of Anabella Rosemberg, a global expert on the social justice dimension of environmental and climate policies who works as a senior advisor on Just Transition for the Climate Action Network and the UN Research Institute for Social Development (UNRISD). She is from Argentina, born in the Argentinean Patagonia and currently living in Paris, France. Anabella has worked as International Programme Director (IPD) at Greenpeace International (2018-2023), and before that, at the International Trade Union Confederation (ITUC), where she worked globally with unions and other allies in many countries, particularly in the global south, on a range of climate change campaigns and issues. Anabella has served in the Board of WEDO since 2021. 
Bringing new experiences and expertise to the Board is new member Brenda Mofya, Head of Oxfam International New York/United Nations Office. She is an experienced feminist and project leader with over 20 years demonstrated history of working with inter-governmental institutions and international and local non-profit organisations, including the African Union Commission (AUC), Friedrich Ebert Stiftung (FES), American Friends Service Committee (AFSC), the Centre for Peace Initiatives in Africa (CPIA) and Zambia Civic Education Association (ZCEA). Among her other accomplishments, she is a co-founder of Mpalyana, an organic dairy and crop learning centre in Palabana, Zambia.
Mofya is joined on the Board by Ed Harrington, who formerly held the roles of Controller for the City and County of San Francisco, General Manager of the San Francisco Public Utilities Commission, Chair of the Water Utility Climate Alliance, President of the Government Finance Officers Association and member of the Financial Accounting Foundation Board. He also served as Treasurer for Greenpeace International for six years. Since his retirement, Harrington has worked extensively with governmental and non-profit organizations. Among other service, Harrington is an advisor to the WaterNow Alliance, an organization of elected and appointed officials who oversee local utility agencies, focusing on financing green distributed water and wastewater infrastructure.
Mofya and Harrington join current Board members Kristin Hetle, Barbara Y. Phillips, Sayida Vanenburg, and Catalina Ortiz.
Celebrating Retiring Board Members
WEDO expresses deep appreciation for the leadership of Soon-Young Yoon who served on the WEDO Board since 2009 and as Board Chair for several years during a period of tremendous growth and innovation by WEDO. Board members Carmen Chiong, and Annette Tjon Sie Fat also depart after concluding their three terms, with deep appreciation for their legacy of leadership and accomplishments upon which WEDO continues to build.

Expression of Interest
The Board welcomes the opportunity to engage with others who are interested in serving on the Board of WEDO, a global women's advocacy organization for a just world that promotes and protects human rights, gender equality, and the integrity of the environment. Please complete this form if you would like to express interest, or nominate someone to join.