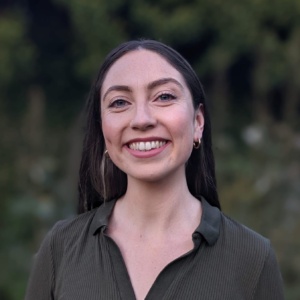 WEDO is thrilled to welcome Sinéad Magner as Leadership and Learning Associate.
Sinéad Magner is an Irish feminist, campaigner, trainer and climate justice activist. At WEDO, she works on capacity strengthening of women and feminist leaders in the environment and global climate policy spheres, including the Women Delegates Fund program that supports travel and capacity of women from LDCs and SIDS to engage in the UNFCCC climate negotiations.
Could you share an interesting fact about yourself?
Until I was about six years old, I believed that sleeping was something that everyone else did except for me because I never remembered doing it. It caused many playground arguments and was a lesson in being humbled when I found out the truth.
What are you excited to bring to the WEDO team? 
My determination and the huge amount of energy I have to give to feminist activism and projects I am passionate about. I am a fierce, unapologetic feminist. I am looking forward to sharing experiences with and learning from WEDO and driving forward the cause of feminist climate justice together.
What's your vision toward #FeministClimateJustice, or one thing that is most important to you in this work? 
An end to violence against women and girls. And end to exploitative, patriarchal, capitalistic treatment of women's bodies and of this Earth we call home. A radical transformation to societies and economies of care – for each other, for nature, for the Earth.
What's bringing you hope for the year ahead?
Solidarity, resistance and the many activists in their many forms who refuse to be told that change is impossible.