WEDO had the pleasure of attending CREA's third annual ReConference on April 10-12 in Kathmandu, Nepal. The conference drew more than 500 feminists from 50 countries around the world to convene and address today's most challenging socio-political issues and their intersections with feminism, art and technology. A global gathering over three days, ReConference is "a commitment to building inclusive feminist visions of justice." Throughout the conference, we shared our vision and mission with new allies and supporters, and attended various panel sessions and multimedia curations centered around the intersections of feminism and environmental justice.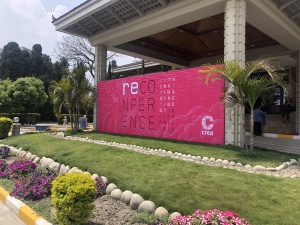 Amplifying Women-Led Sustainability Projects Through Digital Storytelling
Interactive maps, intimate soundbytes, and video storybooks are just a few of the ways feminists working in sustainability are spreading awareness of women-led projects around the world that fight climate change. Throughout the conference, WEDO attended and engaged at sessions and presentations centered around the pioneers who are innovating how we curate and share the stories of indigenous land defenders across countries and continents.
At The Shoreline Project presentation, a digital multimedia storybook created by videographers and journalists from around the world, we learned how women are coping with rising sea levels in the coastal regions of nine different countries and islands by taking action and discovering real solutions for communities. "Gender must always be part of this conversation and these projects," said attendee Lolita Chavez, an indigenous land defender from Guatemala.
Later, in a session led by social and political activist Nandini Oza, titled 'Women Fighters of The Narmada Struggle', we saw how the Narmada Bachao Andolan (NBA) people's movement in India has helped resettlement, rehabilitation, and has advanced policies and laws for the resistance against large dam construction in the River Narmada – which has displaced one million people living in communities along major rivers in India. The Narmada Struggle project uses audio-visual oral history to preserve the voices of the women who advocate for their land at the frontlines.
Sharing the Latest on WEDO's Fierce Feminism & Climate Justice Action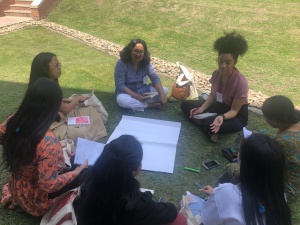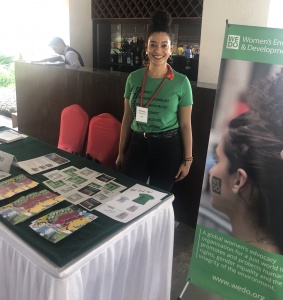 WEDO brought high energy to the ReConference Advocacy Fair on day three, where we shared the latest on our local and global outreach and collaboration, our ongoing #WEDOFierce campaign, and connected with fellow feminist advocates and activists to rethink and reimagine our strategies for pushing the climate justice movement forward.
WEDO's Ashley Edokpayi also had the pleasure of leading a workshop group at AWID's session, 'Envisioning Feminist Realities', where her group's feminist reality centered around the word 'empowerment' – a reality which looked like a world where communities and governments supported feminists championing for environmental justice, created programmatic interventions for empowering women, fought for equal access to education, and supported LGBTQI advocacy and alliance building.
Indigenous Women Continue to Challenge Power in the Name of Environmental Justice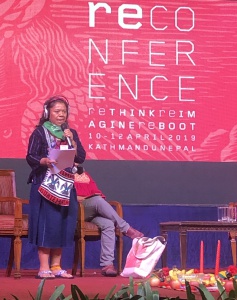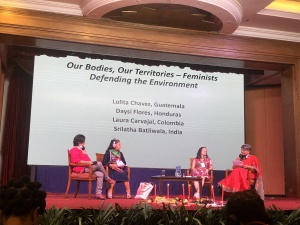 Aura Lolita Chávez Ixcaquic, known as Lolita, took the main stage at the final morning plenary session to tell her story as a Women Human Rights Defender for the Ki'Che people and territory of Guatemala. She shared the territories past and current threats from the expansion of mining, hydroelectric and agroindustry megaprojects on their land.
"We are connecting with the land as feminists, and this starts with connecting with our bodies. The land affects our bodies in different ways," said Lolita to a crowd of 500 at the 'Our Bodies, Our Territories: Feminists Defending the Environment' panel, which explored the deep connections between women's struggles to protect their lands, habitat and natural resources to their struggles for the integrity, security
As a leader of the Council of K'iche' People for the Defense of Life, Mother Nature, Land and Territory (Consejo de Pueblos K'iche' por la Defensa de la Vida, Madre Naturaleza, Tierra y Territorio, CPK) of Guatemala, she has led her organization in connecting 87 communities and their traditional authorities in order to effectively work to protect their lands, resources and territory. Lolita is one of many women around the world who are bravely raising their voice and claiming their rights to make real change, connecting the local to the global.
WEDO is incredibly grateful to have been surrounded by hundreds of fierce women leaders from around the world at ReConference, and for the opportunity to convene in solidarity and sisterhood — and as we continue in the fight for climate justice and environmental, we will carry these powerful, unwavering voices with us.