March 8th 2012
Happy International Women's Day! Click here to download our full  IWD 2012 e-mail blast.
This year, on  International Women's Day, WEDO is proud to celebrate 20 years of advancing women's rights in sustainable development. We honor women's leadership and the incredible, undeniable power of women's organizing and action.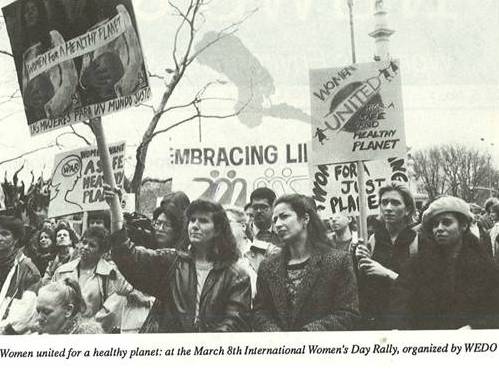 WEDO on International Women's Day in 1992
We are also calling for action. As many of you know, this year, world leaders will come together in Rio de Janeiro, to participate in an Earth Summit, with hopes and plans for securing a sustainable future.
WEDO founders and visionaries, such as Bella Abzug, Thais Corral, Irene Dankelman, and Prof. Wangari Maathai, to name just a few, set us on a path toward the first Earth Summit in 1992 that brought together an unprecedented number and diversity of women and initiated the framework for gender-integrated sustainable development, which still drives our work today. On International Women's Day, WEDO celebrates these leaders and activists, and the power of women's organizing at that first Earth Summit.
20 years on,we need to blaze a new trail to Rio. Many concerns are the same, but the world is fundamentally different, and women are ready to not only respond to it, but lead in shaping its future.
Rio+20 is an opportunity for women around the world to come together in shaping the future we want. WEDO, as part of the Women's Major Group, will be going to Rio to advocate for an outcome which represents the diversity of women's views and perspectives but which solidifies the central importance of achieving gender equality to secure a sustainable future.
Share your views through the Women's Major Group survey and join us on this path.
Happy International Women's Day! We leave you with one of our favorite videos, reminding us all to do the best we can- that together, we can make great change happen.
"I will be a hummingbird" – Wangari Maathai
In peace, friendship and solidarity,
The WEDO Team