This week, the U.S. Congress is set to pass the "Inflation Reduction Act," a bill that claims to address climate change, lower health care costs, and reduce the federal deficit. 
However, in WEDO's analysis, this bill serves as a clear and unwavering reminder that climate action does not mean climate justice. True solidarity to frontline communities at the forefront of fights against extractive and polluting industries—as well as an understanding of the urgent and existential crisis we face, as outlined in the latest IPCC reports—demands a rejection of the false pretense of historic policy and action baked into corrupt compromise. Movements dedicated to justice must be grounded in truth first and foremost. The truth here is that, in content and in process, this bill is devastating in its harm to frontline communities, its failure to address root causes of the climate crisis, and its masking of climate action as entrenching false solutions and enriching fossil fuel companies and corrupted politicians. 
WEDO stands in solidarity and anger with the frontline, Black, Indigenous and communities of color whose demands were steamrolled in the creation of this bill and who will be closest to the violent impacts of more fossil fuel infrastructure. Despite the reality that frontline climate, racial and gender justice organizers are the ones who have struggled for generations to get us to this point, this bill's creation and passage is an affront to their leadership. It was a back-room, closed-door deal among those profiting most from this crisis, that defied any notion of consultation and consent. The IRA does not challenge the white supremacy and capitalism that brought us the climate crisis, and we place no false hope in its passage because it simply fails to meet the moment that science and justice demand. As a global organization, we see every day how feminist climate activists and civil society are demanding their human rights to consultation and consent to shape policies in national and global contexts. It is egregious that those who have been leading the fight for climate justice were not holding the pen of this bill, shaping action that would truly work for people and planet. Please read the statements, reactions and analysis of: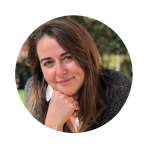 Mara Dolan is a program manager at WEDO, where she leads the U.S.-focused policy research, advocacy, and coalition building among feminist and climate justice movements.