Together with World Urban Campaign, we invite you to join WEDO at a Twitter chat on gender equality and women's human rights, from 2 to 3 pm EAT (6 – 7 am EST), Tuesday 23 January, 2018.
Eleanor Blomstrom, WEDO's Head of Office, will co-host #TheCityWeNeed Twitter chat with @urbancampaign, discussing the following six questions with the followers:
Q1 #TheCityWeNeed recognizes gender differentiated needs and supports women as key actors in planning and adopts measures that enhance their involvement and their ability to participate effectively in decision making. Which efforts does YOUR city make to achieve gender equality?
Q2 #TheCityWeNeed makes sustainable, safe and accessible urban mobility a reality for all ages, genders, communities and groups. How do we plan for and implement that, specifically considering women?
Q3 A key element of the #NewUrbanAgenda is the achievement of gender equality and the empowerment of all women and girls in order to fully harness their vital contribution to sustainable development. What can governments do to make this happen?
Q4: What are major obstacles to achieving gender equality in #TheCityWeNeed and #SDGs, in terms of decent work, equal pay and social protection – #SDG1 #SDG5 #SDG8 #SDG10?
Q5 The #GlobalGoals address #genderequality as well as #cities. How can #SDG5 and #SDG11 be achieved, and what role do women play themselves?
Q6 #TheCityWeNeed can be a place of transformational change by focusing on women's rights and address structural inequalities. What transformative actions & policies do you recommend (budgets, public finance, water, waste, agriculture, transportation, energy, domestic and care work)?
We look forward to your participation in #TheCityWeNeed Twitter chat!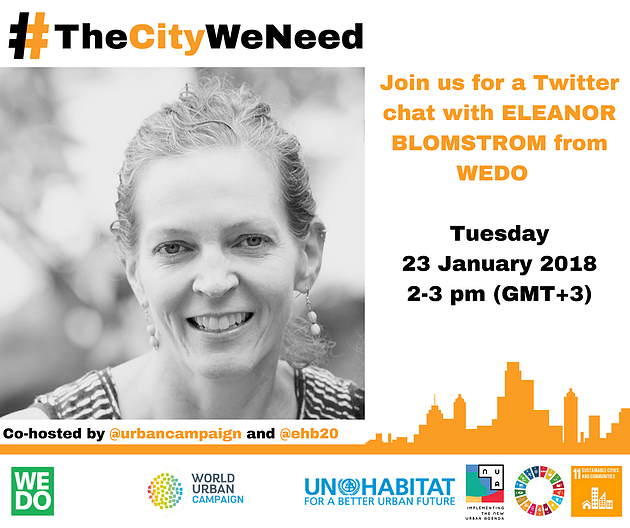 Background on Gender Equality and Women's Human Rights in #TheCityWeNeed
There is no doubt that the world is urbanizing rapidly. And cities are often hailed as engines of economic growth and places of opportunity. However, economic growth tends to be measured by GDP, is re-invested into other growth-oriented projects and remains in the pockets of the powerful – it does not usually translate into more and better public services (education, health, transportation, housing), social protection, or decent jobs. The opportunity of cities is not equally accessible to all.
Gender inequality and discrimination against women is entrenched in all institutions, cultures and countries, and must be recognized and addressed to build #TheCityWeNeed. Women are not monolithic; they live intersectional identities, which can compound discrimination (e.g. race, ethnicity, age, gender identity, ability, migrant or refugee status). Women are also not victims; they are taking action at household, local, national and international level. Women have specific skills and knowledge and expertise they can and are applying to make change in areas of housing, transport, urban food systems, water and sanitation, redistribution of unpaid domestic and care work, budgeting and more. It's important to make those #UrbanSolutions visible. It's also important to track what cities and localities are doing to implement commitments on gender equality and women's rights from the #NewUrbanAgenda, to meet all 17 of the #SDGs and to even go farther.