As the world struggles to recover from multiple crises, 2022 has been a year of bridging greater in-person events and advocacy with the strategies for virtual organizing built during the pandemic. As WEDO reflects on collective wins and challenges, here are just a few highlights from the past year.
#BlockBlackRock: Challenging UN Corporate Partnerships Through Collective Action
When UN Women announced in May that it would pursue a partnership with BlackRock, Inc—the largest investor in fossil fuels and deforestation-linked agricultural commodities—feminist movements were outraged. WEDO, alongside feminist organizations and activists, responded with a sign-on letter to UN Women demanding that UN Women #BlockBlackRock and rescind the partnership.
More than 700 individuals and organizations signed the letter, and as the #BlockBlackRock campaign gained momentum, UN Women announced in August that it would cancel the partnership. While we celebrate this victory, we remain vigilant about continuing to push for greater transparency on UN-corporate partnerships. 
Read more about the campaign here.
Centering The Visions And Aspirations Of Young Feminists
2022 was a year of celebrating and formalizing WEDO's young feminist work. 
On the sidelines of CSW66, WEDO co-organized a gathering of young feminists in MayDay Space in Bushwick, a community organizing space in Brooklyn, as well as a mixer with CSW feminist advocates. During New York Climate Week in September, WEDO's Young Feminist Team organized an in-person feminist mixer, as well as a virtual meet-up to gather with movement partners. And at COP27 in Egypt, we worked alongside the Women & Gender Constituency to highlight young feminist visions for climate justice. 
With a group that grew this past year from three to six, WEDO's Young Feminist Team is poised to continue scaling up its work in 2023 and beyond.
Challenging the Erosion of Rights in the United States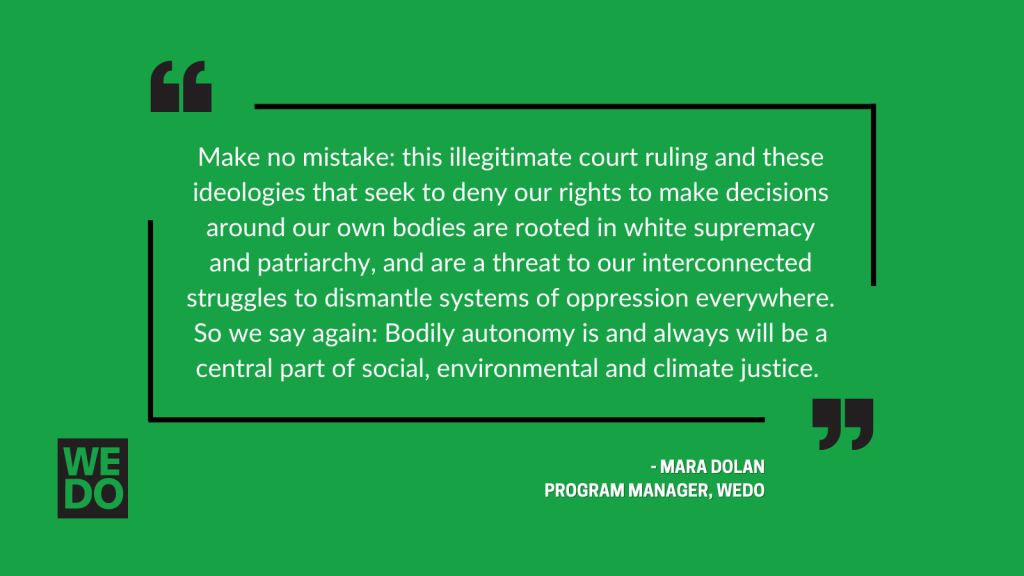 From the overturning of Roe vs. Wade to the lesser-known case of West Virginia v. Environmental Protection Agency, 2022 saw various U.S. Supreme Court decisions attempt to fundamentally erode human rights. WEDO called attention to these fascist decisions, sharing reflections and resources and calling attention to the devastating consequences for all connected struggles, including bodily autonomy, towards global, racial, gender and economic justice.
Read our full statement on Roe v. Wade here, and the ongoing erosion of rights here.
Strengthening Cross-Movement Learnings and Conversations
Following the Global Kickoff of the Feminist Action Nexus for Economic and Climate Justice—and recognizing the deep need and powerful potential of having cross-regional conversations—Action Nexus co-leads organized a "South-South Conversation Series." With a first event led by advocates from Latin America, the Caribbean, and Asia, and a second Pacific-led discussion, these spaces promote radically honest conversation amongst feminist activists toward an intersectional approach to social justice guided by regional specificities and movement realities.
In a similar vein, The Women's Major Group (WMG) hosted an "Another World is Possible" meeting series to build hope and concrete ways forward across regions related to systemic challenges that seem insurmountable. Open to WMG members, the discussions unpacked feminist answers to big questions such as how we can transform our economic system, ensure sustainability, and reach peace—as well as what we do next for systems change.
African Feminist Task Force: Establishing Regional Demands to Guide Climate Advocacy
Ahead of the climate negotiations (COP27) held in Egypt from 6-18 November, African activists from the Women and Gender Constituency (WGC) and beyond worked together to launch a set of collective demands that must be addressed. In a context where the 2022 climate negotiations were being held again on the African continent after six long years, these demands added—for the first time—regional specificity and guidance to the overall demands from the WGC. They also formed the backbone of an ongoing multimedia campaign to highlight the unique needs, challenges and leadership of African women and girls.
While the COP27 outcomes fell far short of meeting our demands, notable wins include the establishment of a loss and damage facility, an explicit reference to the human right to a clean, healthy and sustainable environment, and reforms for financing institutions.
Learn more about African women's and girls' demands here.
Launching The Gender And Environment Data Alliance (GEDA)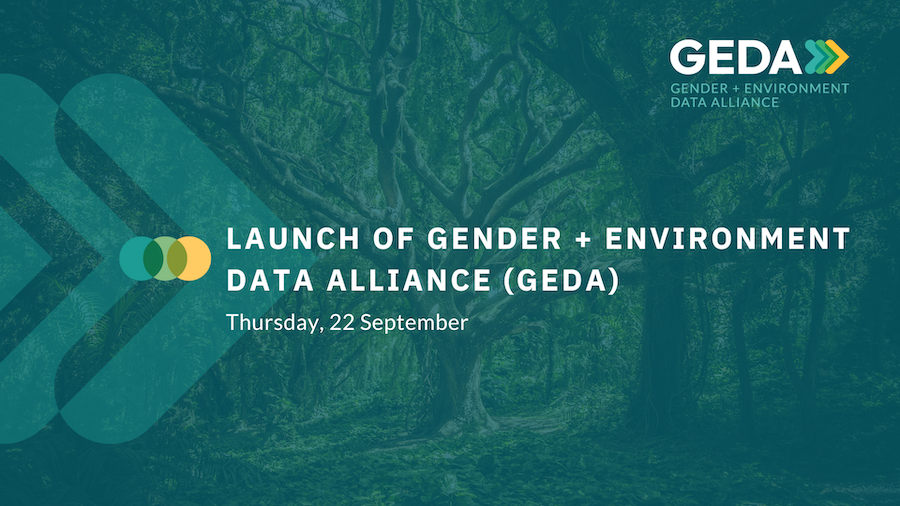 On September 22, WEDO and IUCN, together with other partners, officially launched a diverse multi- stakeholder alliance—the Gender and Environment Data Alliance (GEDA)—to advance gender-just climate action at all levels through improved accessibility, understanding and application of gender-environment data. Seventeen founding members agreed to co-create this alliance, born out of a recognized need in our ongoing work for better compilation and use of data at the gender-environment nexus. 
As GEDA's work progresses, the Alliance looks forward to sharing a broad range of resources, such as this brief on why gender data must be the bedrock of climate justice; supporting data-related work of feminist and grassroots organizations and academics; and eventually offering opportunities to strengthen capacities of data users and producers within governments, organizations, academia and civil society.

Sign up for the GEDA newsletter here.
Linking Feminist & Environmental Justice Demands Across Global Policy Spaces
Throughout 2022, WEDO increased efforts to "connect the dots" across global policy spaces, creating a clearer set of feminist demands and unpacking how they relate to specific UN spaces—from the UN Commission on the Status of Women (CSW) to the UN Framework Convention on Climate Change (UNFCCC).

This year's Commission on the Status of Women (CSW66) for the first time prioritized as its key theme the interlinkages between gender equality and climate change, environment, and disaster risk reduction. Given this theme, WEDO played a leading role in organizing events and actions, and pushing for governments to tackle crucial issues that would advance both climate and gender justice. 
This year, we also joined partners to advocate for a rights-based approach to global disaster risk reduction efforts, as well as for gender to be considered in all aspects of the UN's new Global Biodiversity Framework. At the UN climate negotiations (COP27), we reiterated our key demands across ongoing, critical issues—from women's leadership and representation to comprehensive economic transformation and a just transition away from fossil fuels. 
Enhancing Capacity Strengthening for Women Leaders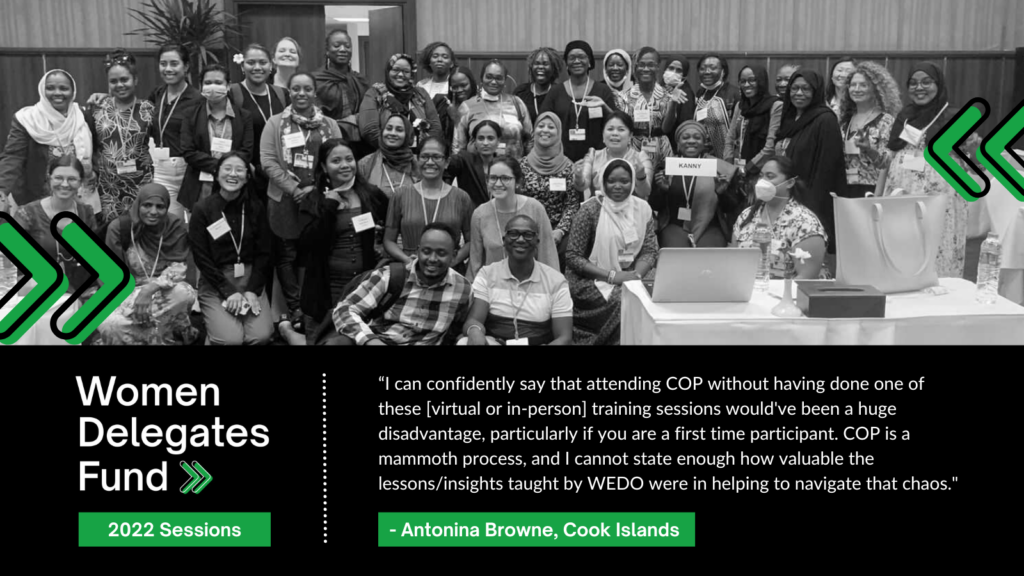 In 2022, the Women Delegates Fund (WDF) held virtual and in-person capacity building sessions on UNFCCC negotiations for women climate leaders.
At the annual "Night School" training program held at COP27, 57 people from 41 different countries participated, developing the technical skills necessary for effective participation in the negotiations and building relationships with their fellow negotiators. For the first time, this Night School operated as two tracks—an advanced room and an introductory room—meaning that those who had been involved in previous WDF trainings could build on their existing knowledge and skills and delve deeper into the complexities of the current thematic issues. For many delegates, these training sessions have provided an opportunity to build their networks, enhance their skills and self-confidence, and envision with new ambition their future roles as climate leaders and experts in their fields.
"I can confidently say that attending COP without having done one of these [virtual or in-person] training sessions would've been a huge disadvantage, particularly if you are a first time participant. COP is a mammoth process, and I cannot state enough how valuable the lessons/insights taught by WEDO were in helping to navigate that chaos." – Antonina Browne, Cook Islands.
Read more about the work of the Women Delegates Fund here.
Pushing the United States to Pay Up for Loss and Damage
For decades, the global climate justice movement has been building momentum around "loss and damage" under the UNFCCC, acknowledging and addressing how rich nations must provide financial assistance to countries on the frontlines of climate impacts. Heeding the demands of Global South allies and considering the U.S.'s role as a historical blocker of action on loss and damage, WEDO's U.S. advocacy work prioritized efforts to increase pressure on the country ahead of COP27. 
Alongside allied organizations, we collectively organized and hosted a Congressional Briefing featuring frontline voices from the U.S. and the Global South on the importance of U.S. support for a dedicated loss and damage finance facility; co-led a civil society sign-on letter to Special Envoy for Climate, John Kerry, that was supported by 150+ organizations; held advocacy meetings with policymakers; supported the release of a Congressional Letter to the Biden Administration led by Congresswoman Omar and Congressman Bowman; and paired this advocacy with organizing direct actions related to loss and damage at COP27. 
Facing this power and pressure from civil society, the U.S. delegation finally ended their obstruction of a loss and damage finance facility. As the details of the fund get fleshed out, we will now work to ensure it becomes actualized, resourced, transparent, and accountable.
Promoting Feminist Climate Finance Through The Gender Just Climate Solutions Scale Fund
The Gender Just Climate Solutions Scale Fund is part of a multi-pronged program of work on advancing gender just climate solutions. Launched in 2021 as part of the Generation Equality Forum—and led by WEDO and our longstanding partners WEP, WECF, and FEMNET—the fund aims both to innovate new models for resource redistribution within our movements and respond to the challenges and needs identified by those working to lead and scale feminist climate solutions. 
The Scale Fund has now provided three rounds of re-grants to 19 organizations, as well as tailored technical support for three organizations' resource mobilization. And beyond funding, the Scale Fund has also contributed capacity strengthening to organizations to access available funding. As an example, a call for proposals from the German International Klimate Initiative (IKI) for its small grants initiative was an opportunity to provide technical support to three organizations that met the criteria. 
Learn more about the Gender Just Climate Solutions Scale Fund here, and learn more than 150 Gender Just Climate Solutions recognized and featured in the Women and Gender Constituency GJCS annual publications since 2015 here.
Growing The WEDO Team
One of our biggest sources of joy in 2022 has been seeing our team become larger, more diverse, and more specialized in our work. In the last two years, we have grown from a team of five fierce feminists and advocates to one that is 14 people strong, spanning geographies—from Colombia to South Africa and Tanzania. Our new staff have made it possible to continue building out our administrative, communications, and programmatic functions. As the movement for climate justice grows, we hope to continue growing with it—advancing feminist leadership and solutions towards a just and healthy planet for all.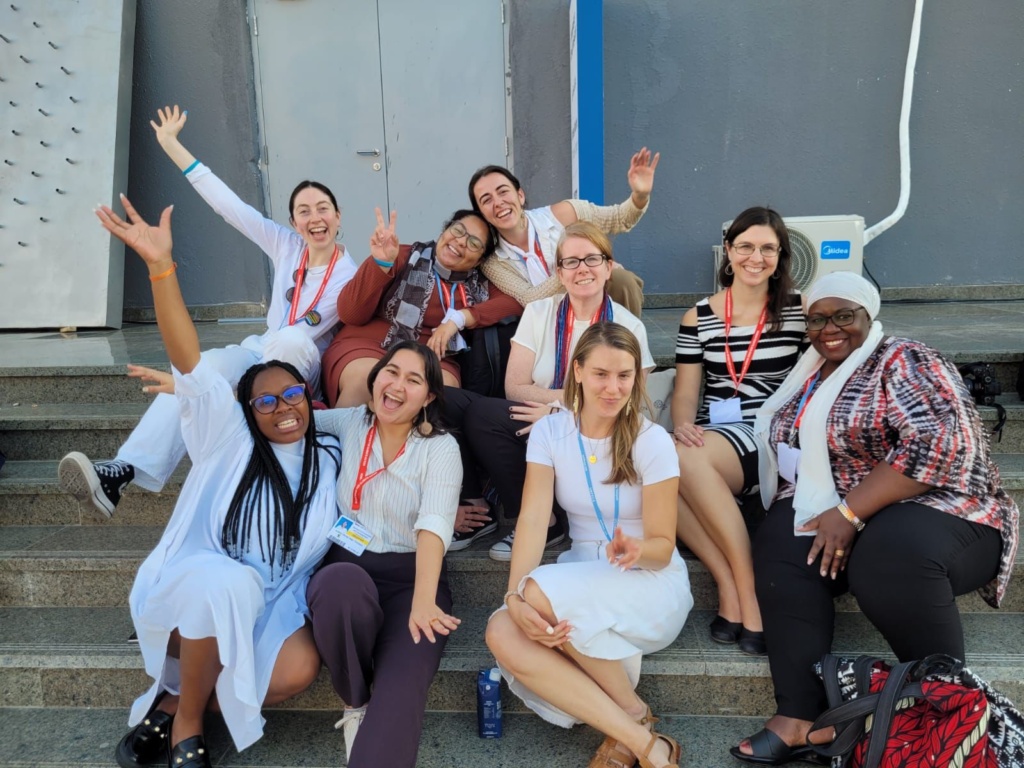 Learn more about our team members here.